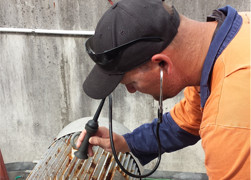 12 January 2016
Mechanical engineering apprentice Jarrod Busby has been a chef, worked in the laundry industry, and worked in a number of different jobs before entering the engineering industry at Croucher & Crowder Engineering Co Limited almost seven years ago. Now in his second year of his apprenticeship, the 39-year-old was one of four finalists nominated for the Competenz Stuart Tolhurst Apprentice Trophy at last year's 2015 SKF National Maintenance Engineering Conference (NMEC) in Hamilton.
The award, which celebrates the achievements of an apprentice who has shown good work ethic and initiative, confirms for Jarrod he's finally on the right career pathway.
"It's pretty cool. There are a few other apprentices who are doing similar work to me and have won industry awards so I was surprised I got nominated," he says.
"I was a trades assistant at Croucher & Crowder for five years before one of our team leaders suggested I take on an apprenticeship. I wanted to take on an apprenticeship earlier, but I didn't feel confident enough to go for it."
Jarrod's confidence has continued to grow with every job he's been assigned to.
"I've learnt so much in my apprenticeship, from welding to light fabrication and many other skills. I really enjoy doing maintenance and fitting engineering. My first job I had to do as an apprentice was doing maintenance work on one of Fonterra's cheese rollers."
Mechanical Services Manager Greg Dickie says Jarrod has a mature attitude and is a hard worker.
"Jarrod is doing really good in his apprenticeship. He's knuckling down with the work, and taken everything that he learns on-board. He's bonded well with everyone and is one of the team."
Jarrod is hoping to continue to gain more experience in mechanical engineering once he finishes his apprenticeship.
His advice to people wanting to start a career in engineering?
"Try and get work with an experienced tradesman. I've worked with many great tradesmen and you learn so much from them."