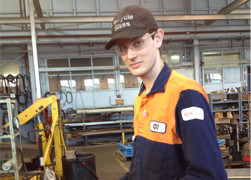 18 May 2016
For 18-year-old Daniel Ingram, giving up his dream to work for an engineering company was never an option. The Whakatane High School former student is in his first year as a mechanical engineering apprentice at O-I Glass New Zealand. He started looking for an apprenticeship in August last year, sending out his CV to local engineering companies.
"Last year I was applying for jobs back in Whakatane, and one of the jobs was with Carter Holt Harvey. The apprenticeship at Carter Holt was through ATNZ," Daniel says.
"When I didn't get the apprenticeship, I started looking into ATNZ through their website and saw a video of O-I Glass. I thought it would be a cool place to work. Although there were no jobs being advertised, my mum encouraged me to send through an application form and it worked!"
Going through the process of applying for an apprenticeship with ATNZ was a lot less daunting than Daniel expected.
"I was contacted by the ATNZ team, and was asked to fill out a questionnaire and do some basic tests. My parents brought me to Auckland and I had an interview with the team at O-I Glass," he says.
"In previous job interviews, there would be six people interviewing me – it was nerve-wracking! But the team at O-I Glass and Ged [Gerard Robbins – ATNZ account manager] made me feel at ease throughout the whole process."
Daniel's grandfather had a huge influence on him pursuing a career in engineering.
"I was always interested in the work my grandfather did. He's a hydraulics specialist. I thought his job was pretty cool," he says.
"I did mechanical engineering at high school, as well as doing a Gateway programme at a local engineering company when I was in Year 12. I really enjoyed the experience. I did a range of basic jobs such as welding and drilling holes."
Many of Daniel's friends went on to university after school, but university never interested him.
"I've always wanted to do an apprenticeship. I like the idea of getting paid while I learn. There's no student debt," he says.
"I feel more comfortable learning in a work environment and there's a higher chance of getting a job when I finish. Companies usually keep on an apprentice once they've got their qualification."
The team at O-I Glass have been supportive of Daniel every step of the way.
"Everyone's been really helpful. Every Tuesday, we work on our assignments. The team is always willing to help if I'm struggling."
Daniel's advice to anyone wanting to do an apprenticeship?
"Look everywhere. Hand in your CV at local workshops. Always check your local newspaper and Trade Me for any jobs being advertised. An apprenticeship is definitely worth pursuing."
For more information on how you can kick start your career in an ATNZ apprenticeship, please visit the ATNZ website.