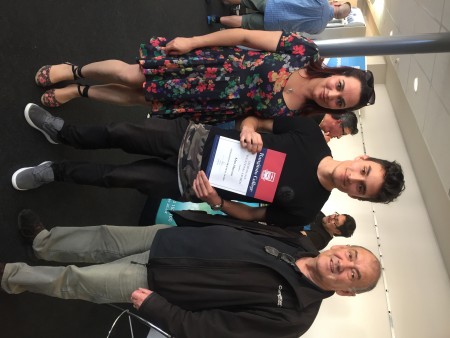 27 October 2017
Auckland high school student Alan Alarcon has proved he's more than ready for a career in engineering.
The Year 13 student received an award for excellence in engineering at the Rangitoto College Vocational Awards, which celebrate achievement in trades-related subjects - engineering, construction, furniture, textiles and apparel, and food. 
The award has topped off a successful year for Alan, who has been offered an apprenticeship at Rosedale engineering company Douglas B Foote. He is expected to start as soon as he's completed his Year 13 exams.
The Competenz career development team – Derek Tunui, Brian Lane and Reg Currin – attended the awards on 19 October to speak to students and parents about the Gateway programme and the opportunities for careers in trades.
Find out more about how Competenz supports schools   
Photo: Alan Alarcon (centre) at the Rangitoto College Vocational Awards with his mum (left) and Competenz Trades and Schools Advisor Brian Lane (right).