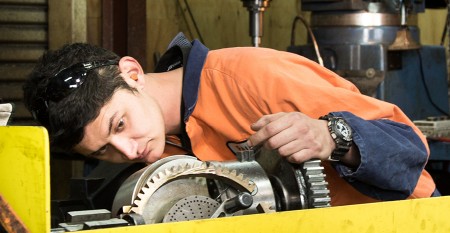 14 August 2017
Paul Taurima has a huge variety of jobs and responsibilities as a mechanical engineering apprentice at Foot Engineering in Napier.
"I love that at my job you might be welding a bicycle then one phone call later, you're packing the bush truck to repair a digger, then maybe at the port doing maintenance. Every day is different and the variety of work my company covers is so vast, I'm going to have a good set of skills when I qualify."
Paul says his key role is to ensure the workplace runs smoothly which includes being a courier driver, rubbish man, a builder, forklift driver and cleaner, among engineering tasks.
"My job has progressed from not knowing how to use a grinder properly, to being 40 metres in the air in a man cage with another tradie cutting seized bolts off two seven-metre pipes. I learned on the job as it's the only way. You can't be told you might need to hold the angle grinder on this angle to cut there for example, you need to be doing it."
Paul says he is well supported by his workmates.
"I'm in a relatively small engineering workshop where everyone gets along and because it's smaller, I can't get lost among all the employees. Everyone knows I'm an apprentice and if they see I need help, they step in.
"Having a young manager and foreman in the work shop is good because they still know what it's like to be an apprentice. They aren't scared to give me a go and don't rip my head off when I make a mistake."
One of the main reasons Paul chose to do an apprenticeship was so he could earn money while learning.
"Also, skills are more valuable than money and the skills that I'm learning while doing my apprenticeship will stay with me forever. I can take them with me overseas. It just opens up so many options."
Paul is a speaker at the Competenz #GetAMPT bootcamps to encourage Maori and Pasifika into trades, and he is also planning to invite young people to a talk at his local marae.   
When he's not at work, Paul is a family man, spending time with his nieces and nephews. After a hard day's work he enjoys fishing, plays rugby and does waka ama, and coaches basketball at Napier Boys High School.  
So what does the future hold for Paul?
"I want to build a home out of shipping containers one day so I need some skills. Every day is a challenge and that's why I love it."
Watch Got a Trade? Got it Made! with Paul Taurima
Paul is a future leader for the Got a Trade? Got it Made! national campaign to raise awareness of on-the-job training and careers in New Zealand's trades and services. Find out more at gotatrade.competenz.org.nz.