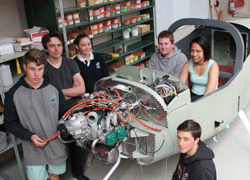 27 October 2015
Mercury Bay Area School students have a project like no other. Six senior students are currently building a Vans RV 12 plane. Retired licensed aircraft maintenance engineer Jim Evans leads the plane-building project. Every Wednesday afternoon from 12.30pm to 5pm, Jim's shed in Whitianga transforms into a learning hub for the students.
"The students have grown in confidence and are now better able to make decisions for themselves. Students have a lot more initiative when they're working on the plane. This partly comes from the fact that they're learning to fly as well," says Mercury Bay Area School engineering, automotive, and technology teacher George Fletcher.
Currently the project is an extra curriculum activity for the students. The school have been involved with the project since 2011 and are now on their second plane project.
"The school thought it was a brilliant idea," George says.
"What I'm looking at for next year is doing some form of unit standards and achievement standards for the students. We do a lot of hand-tools skills which can be incorporated into unit standards or achievement standards. We're hopefully going to get a mix in. This is where I see the plane build working towards."
A few students from the first project went on to work in the engineering and aviation industries.
"It's definitely getting students interested in engineering and aviation," he says.
"One student went onto the Air Force, one is doing a helicopter maintenance apprenticeship, and another student is doing an aircraft component heat treatments apprenticeship. Their experience from working on the project has definitely played a part in getting those jobs."
George and Mercury Bay Area School IT Manager Patrick Pfister run the project with Jim and a few other mentors from the local Mercury Bay Aero Club. Students learn to work within a workshop environment.
"Jim operates the plane build as a real workshop. He's like the students' boss. It's a completely different environment from being in the classroom. I really like this aspect of the build because it's getting the students ready for the workforce."
Jim saw the opportunity to get more young people involved in engineering and aviation through building a plane.
"It was a scheme that I put to the aero club because we're all getting old and we needed to invigorate the club. I saw it as a way to give students some life skills and hopefully get young people into the club," Jim says.
"The students have certainly grown into it. Some of the tasks can be difficult, but they know they've got to get on with it."
The first plane was purchased by the Mercury Bay Aero Club. The second plane was purchased by a private investor. Since the plane project started, the club has seen interest in flying and membership increase.
The current plane project is set to be finished by early next year in time for the Warbirds Over Wanaka International Airshow in March. The school and Jim are currently looking into avenues to fund another plane project for next year.
For more information, please visit the Mercury Area Bay School website.
Photo: Mercury Bay Area School students Cody Golaboski, Jordan Williams, Ruby Meek, Matthew O'Connell, Bernadine Tonoa and Rian Wheeler working on the second RV 12 plane. Credit: Fairfax Media.