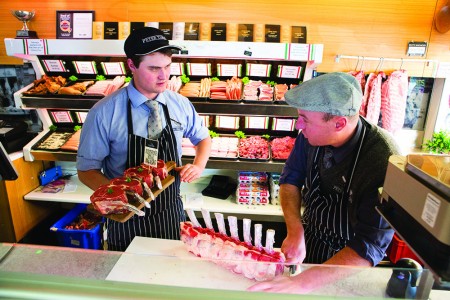 27 March 2018
Competenz has launched a new butchery qualification for apprentices.
Developed with input from industry experts, the New Zealand Certificate in Trade Butchery Level 4 offers strands in carcass breaking and boning, curing and smoking, and handcrafted small goods.
It equips workers with the knowledge and skills to work independently and comply with legislative and food safety requirements.
The certificate is a combination of practical on-the-job learning and theory, designed to recognise essential knowledge and skills with optional strands that reflect areas of specialisation in the retail meat industry.
A Competenz training advisor visits throughout the year to structure the training material into manageable chunks of learning, set deadlines with learners to complete assessments, and support them through their training.
Competenz Chief Executive Fiona Kingsford says the new certificates have been designed to build and formalise skills across the retail meat industry.
"Developing highly skilled employees is critical to staying competitive, productive and safe. These new qualifications take a step-by-step approach, which allows for practical and theory to be combined to give better structure and spread the learning load."
Apprenticeships without the fees
The government has made it more affordable for employers to train people on-the-job with two years fees-free industry training.
This means the costs usually paid by employers and apprentices in the first two years will now be free for some people. Apprentices can check their eligibility at www.feesfree.govt.nz before signing a training agreement.
The policy came into effect on 1 January 2018 and Competenz is already signing up people who qualify for funding.
"There's no better time to take on an apprentice," Kingsford says. "For people already working in the retail meat industry who haven't completed tertiary training before, it's an opportunity to start getting qualified at no cost.
"Your workers will grow their skills and knowledge and gain NZQA-recognised qualifications while learning on-the-job."
More information