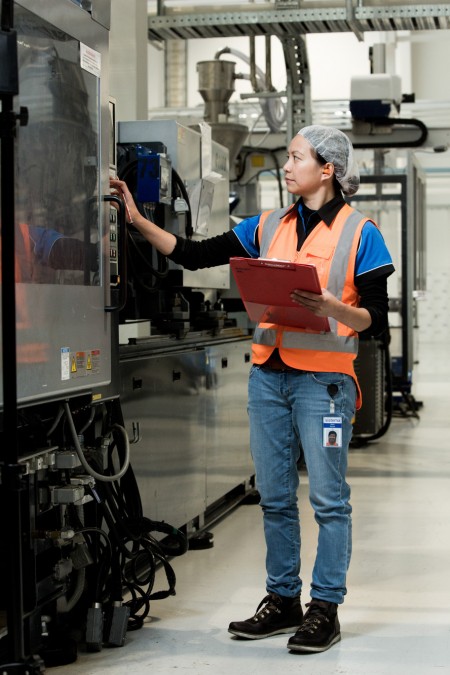 16 May 2018
Competenz has launched a new suite of qualifications in plastics engineering and processing that include specialisations designed for the future.
Developed by leading New Zealand plastics manufacturers, the programmes equip staff with the skills and knowledge to work productively and safely.
Together the qualifications form a pathway of learning from entry level plastics operators, die setters and technicians to experienced plastics production engineers. 
A Competenz training advisor visits throughout the year to structure the training material into manageable chunks of learning, set deadlines with learners to complete assessments, and support them through their training.
Competenz Chief Executive Fiona Kingsford says the new certificates have been designed to build and formalise skills across the plastics industry.
"Developing highly skilled employees is critical to staying competitive, productive and safe. These new qualifications take a step-by-step approach and map out a clear career path to progress."
Entry-level workers can complete the New Zealand Certificate in Manufacturing with a specialisation in plastic, which will enable them to meet basic health and safety requirements and carry out basic tasks in a manufacturing operation.
The Level 3 New Zealand Certificate in Plastics Processing is designed for people already working in the plastics manufacturing industry. Graduates will be able to work as competent operators, under limited supervision, in plastics processing operations. An optional strand in plastics engineering recognises the knowledge and skills required to install, maintain and service plastics processing machinery and equipment.
Graduates of the Level 4 New Zealand Certificate in Plastics Engineering will be able to assure the production of plastics, carry out processing trials of new products or product changes, apply advanced knowledge of processing machinery to manage plastics processing, troubleshoot to identify equipment faults, and identify areas for process improvements. There are six specialisations.
Taken together, the Level 3 and 4 qualifications can form an extended New Zealand Apprenticeship.
On-the-job training without the fees
The Level 3, Level 4 and apprenticeship programmes are eligible for the government's fees free scheme, meaning the costs usually paid by employers and learners in the first two years will be free for some people. Learners can check their eligibility at www.feesfree.govt.nz before signing a training agreement.
However, not all Level 3 specialisations are covered by fees free and you will need to speak to your Competenz training advisor for more information.