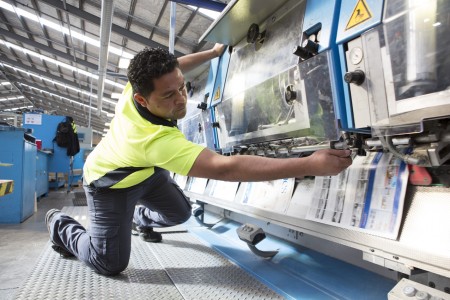 09 February 2018
Competenz has launched a new print qualification for apprentices.
Developed with input from industry experts, the New Zealand Certificate in Print Level 4 offers strands in digital printing, offset printing, reel-fed printing and screen printing. Learners can enrol now.
The certificate is a combination of practical on-the-job learning and theory and is broken down into four programmes with six skill sets.
This new qualification is fees-free eligible for the first two years.
A Competenz training advisor visits throughout the year to structure the training material into manageable chunks of learning, set deadlines with learners to complete assessments, and support them through their training.
Competenz Chief Executive Fiona Kingsford says the new certificates have been designed to build and formalise skills across the print industry.
"Developing highly skilled employees is critical to staying competitive, productive and safe. These new qualifications take a step-by-step approach, which allows for practical and theory to be combined to give better structure and spread the learning load."
Available print qualifications:
NZ Certificate in Binding and Finishing – Level 3
NZ Certificate in Binding and Finishing – Level 4
National Diploma in Print Industry Management – Level 5
To find out more about the new print qualification, call our customer services team on 0800 526 1800 or email info@competenz.org.nz.
Watch a video to find out what it's like to be a print apprentice here
Find out more about the print industry and available qualifications here