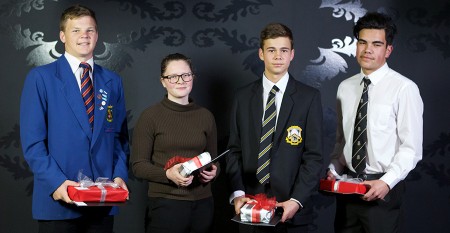 31 October 2017
It was a night of celebration for engineers at the annual Engineering Taranaki Consortium Apprenticeship Awards this month – and a new award category jointly sponsored by Competenz celebrated future apprentices too.
The annual ETC awards recognise excellence in engineering apprenticeships in Taranaki, and the Gateway to Industry Awards were added to celebrate students who have completed work placements with engineering, refrigeration or electrical firms in the region.
For many students, their Gateway placement is the starting point of their careers and a vital learning experience. The awards, jointly sponsored by Competenz, Skills and Taranaki Futures, recognise the Gateway programme as a credible pathway to a successful career in trades.
Gateway to Industry Awards were presented to Mason Porteous (Francis Douglas Memorial College), Elena Jameson (Spotswood College), Corban Milham (New Plymouth Boys' High School) and Paul Te Awa (New Plymouth Boys' High School).
Competenz also sponsored the eLearning Trainee of the Year Award, presented to Lockie Bower at Methanex. Second place went to Daniel Quintus and third place to Joel Campbell, both at Fonterra in Whareroa.
The overall ETC Apprentice of the Year Award went to Jack Christiansen at Vector.
ETC Board Chairman Pat Hills said the awards reaffirmed that Taranaki employers take pride and continue to invest in staff development and maintain highly motivated and qualified workers through apprenticeship training.
"The dedication by employers shown again this year is second to none including their tradespeople, many who act as mentors and coaches and sit alongside the apprentices with further support and guidance from the various training organisations, they make it happen!"
He said the engineering sector in Taranaki was in a period of significant change and opportunity.
"We have world-class engineering companies, a skilled and motivated workforce, and strong support from central and local government to take Taranaki forward. The challenge is to leverage what we have and adapt in a relatively changing world."
Photo: Gateway to Industry Award winners Mason Porteous, Elena Jameson, Corban Milham and Paul Te Awa.