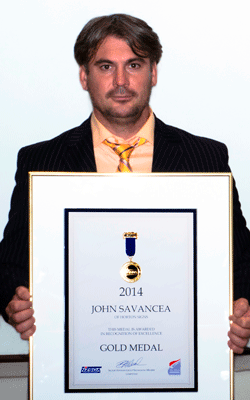 07 May 2015
Portable trade skills, a job vacancy in far-away Rangiora, the support of good employer and industry training organisation Competenz, and plain hard work combined to see recent Romanian immigrant John Savancea receive the Signmaking Apprentice of the Year Award at the signmaking awards in Rotorua over Anzac Weekend.

"I love the signmaking trade and signmaking skills are useful round the world," says John. "So when the economic crisis in Romania made it hard to earn a living there, my wife and I looked to Australia and New Zealand."

A job vacancy with Horton Signs in Rangiora caught John's eye. As luck would have it, the role was with a firm that is well regarded in the industry and understands the benefits of training its employees.

"My employer Mat Horton has taught me so much. And my Competenz account manager Steven Jack has been there all the way too."

While many aspects of the signmaking trade are the same in Romania and New Zealand, John says there are differences too – in the day-to-day work and the skills that form part of a signmaker's stock in trade.

"New Zealand is a country of small businesses, so we do lots of signwriting on vehicles. That's just not the case in Romania.

"And I've had to learn to use a brush since I came here. Hand signwriting is big in New Zealand but it's not something I did in Romania."

What does John think makes a good signmaker?
"You have to love the trade and love a challenge – because every new sign is a challenge. Attention to detail's important and so is understanding your clients' needs. And you need to keep learning. Technology's changing quickly and we need to keep ahead."

What would John advise someone contemplating leaving their home country to come to New Zealand?
"It's hard to leave family and friends but it's worth it. Kiwis are very friendly, open-minded – and sporty. We're glad we did it."

And the Australia option?
"We came to New Zealand as a bridge to get to Australia. But not now. We really like New Zealand and we're staying."