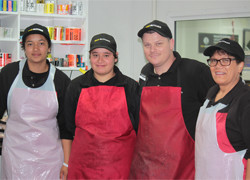 25 February 2016
Secondary school students from West and South Auckland are stepping into the shoes of a butcher. The eight-week Gateway programme, which started this week, has six students doing work experience in a local Mad Butcher store with interest growing from local schools.
"It's about supporting the industry and young school leavers. If students show that they are keen and passionate about the business then that could lead onto fulltime positions with us," says The Mad Butcher Group Operations Manager, Dan Adams.
"The programme is designed for unit standards in mince making. The students are also involved in other areas of the business such as putting meat into trays and wrapping meat. They get an overall understanding of a working environment in this industry."
Education and Industry Solutions Director and lead coordinator of the programme, Gary Reid says he saw an opportunity to get more young people interested in a butchery career.
"I approached The Mad Butcher Group wanting to introduce a Gateway programme which can stand alongside their apprenticeship scheme. We needed unit standards for this programme so it was a natural progression to get Competenz involved," Gary says.
Students do work experience at a local Mad Butcher store one day a week where they learn from experienced butchers.
"It's a chance for a young person to get a taste of the butchery trade while gaining credits that go towards their NCEA results," says Competenz Sector Manager, Retail Meat & Baking, Matt Grimes.
"Although butchery apprentice numbers have been growing over recent years, the industry has an ageing workforce that needs new talent. The Gateway programme has been welcomed by The Mad Butcher Group which is fantastic for young people and Mad Butcher franchises."
The Butchery Gateway programme is currently only available in West and South Auckland, with the prospect to expand to Mad Butcher stores nationwide.
More information on the Butchery Gateway Programme
The Butchery Gateway programme is entry level unit standards that expose secondary school students to the butchery industry
The programme is available to all secondary schools nationwide
The programme covers four unit standards, totalling 16 credits
Gateway students need to be registered with Competenz to do the programme
Please contact the Competenz Careers team for further details.
Photo (left-right): Western Springs College Year 13 student, Henrietta Burke, with Mad Butcher Point Chevalier store staff.