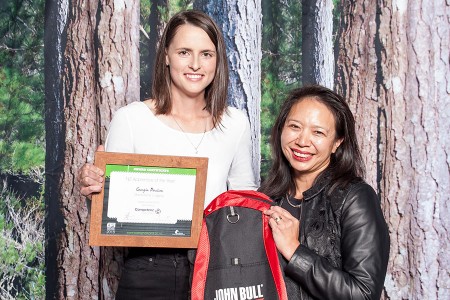 13 June 2018
Despite being in the early stages of her apprenticeship, Georgia Paulson has taken out the New Zealand Apprentice of the Year at the recent Eastland Wood Council Forestry Awards.
Georgia, who works at Blackstump Logging in Tolaga Bay and is completing a New Zealand Apprenticeship in Machine Operations (Hauler and Loader), received her award at an industry celebration dinner held last month in Gisborne.
"It's pretty unreal and took a while for it to sink in. I'm extremely proud to have been named New Zealand Apprentice of the Year and also to know that our industry supports my commitment to the forestry sector."
While forestry may have been a typically male-dominated career, Georgia says more women are joining the industry. "It's great to see. Over the few years I have worked in logging crews, I have worked alongside a handful of women, all of whom have enjoyed their jobs."
Georgia's role at Blackstump Logging also involves being a representative for quality control and health and safety. Currently the crew is working in Waiteata forests for PF Olsen. She says the knowledge and experience gained through her apprenticeship will enable her to advance her career.
"Along with my apprenticeship, I'm also completing the New Zealand Diploma in Forest Management and aim to use both qualifications towards starting my career in forest management, beginning with harvest supervising. 
"I would highly recommend the apprenticeship – there is an endless number of career paths in forestry, and this is a great way to progress hands-on. To develop a career in our evolving industry is a great opportunity, it's an exciting time to get involved with new systems and technology being introduced in New Zealand. To choose a forest as your office of choice is an easy decision."
Photo: Apprentice of the Year Georgia with Yvonne Lim, Competenz General Manager of Stakeholder Engagement.
Eastland Wood Council Forestry Awards
Training Excellence
NZ Apprentice of the Year: Georgia Paulson, Blackstump Logging
Trainee of the Year: Rick Te Whiu, Knowles Family Trust
Training Company/Contractor of the Year: Pride Forestry Limited, Stacy & Penny Habib
Skilled Professionals
Forestry Excellence: Edward Tuapawa, Pride Forestry Limited
Roading Excellence: Ricky Kuru, Kuru Contracting
Harvesting Excellence: Nortyn Willis, Down n Out
Distribution Excellence: Paul Coker, ISO Limited
Wood Processing Excellence: Loncey Crawford, East Coast Lumber
Construction Excellence: Brian Deam, Big Bark Loading Contracting
Faller Excellence: Les Tidy, Pakiri 26
Pavement Excellence: Kieren McCarthy, Big Bark Loading Contracting
Industry Development Awards
Contractor of the Year: Big Bark Loading Contracting, Tony Shanahan
Outstanding H&S Management: Stubbs Contracting Limited
Outstanding Environmental Management: Mangatu Blocks Incorporated
Outstanding Regional Service Performance: ISO Limited