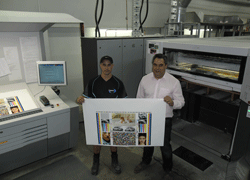 27 August 2015
A careful hiring policy, supporting their apprentices' learning, managing progress, and the personal touch have combined to see award-winning Logans Print from Gisborne put 18 people through successful printing apprenticeships in the past 16 years.
"We're careful who we take on," says Technical Manager Colin Lean. "Usually we look internally for our apprentices. That means we can check them out before we sign them up, and they're familiar with how we work, so they make faster progress."
With four apprentices currently on its books, Logans has the numbers to run structured monthly training sessions to supplement on-the-job learning. At these sessions, Colin and his apprentices work through 'active issues' – current jobs which are proving challenging. It's an opportunity for apprentices to problem-solve and gain knowledge they can use on-the-job.
Tracking apprentices' progress is important, and these regular sessions are one way Logans does this. They discuss book work – and the need to keep on top of it – each month.
The support of Competenz account manager Malcolm Pearce helps too.
"In the past I've left our account manager and apprentices to meet on their own," says Colin. "Now I find it's better if I sit in. That helps me understand what our apprentices need to do to make progress, and we can work on a catch-up plan together if we need to."
If an apprentice falls behind, Logans works with Competenz to put support in place. Colin says the approach he takes is important. "I've learned not be a dictator. Coaching works far better."
Logans values their apprentices and treats them well.
"They don't push a broom for their first year," says Colin. "They're using the latest equipment like our Heidelberg Speedmaster and that's motivating. And their pay goes up as they qualify, so there's an incentive to tick off their unit standards."
Taking a personal interest in apprentices is important – including at 6am. "One of our apprentices works nights, so I turn up early once a month to have some one-on-one time with him."
The company offers its apprentices career opportunities. Former apprentices fill the roles of Pre-press Operator and Finishing Supervisor. Colin himself, who completed his apprenticeship in 2000, is the company's Technical Manager.
If Colin makes supporting his apprentices sound easy, it's not. "Managing four apprentices is hard work. But if you're going to take on an apprentice, you need to invest in them fully. People make the business."
It's this approach which has seen two Logans apprentices, Colin himself and Wayne Torrie, win the sheet-fed category in the Print Apprentice of the Year Awards in 2001 and 2010 respectively.