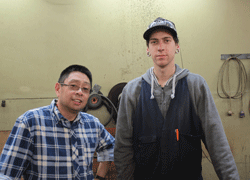 01 October 2015
The experience of small Auckland engineering workshop Designsteel in employing and training a sole apprentice is an encouraging one for a country of small businesses.
"Our last apprentice became a really good tradesman and stayed with us for eight years after he qualified," says manager Warren Wong. "Our current apprentice Andrew's doing really well too."
When it comes helping an apprentice learn, being a small firm has its advantages.
"We can give our apprentice lots of variety," says Warren. "We've got different work coming in the door every day, so Andrew gets to try bit of everything. And having just one apprentice at a time works fine."
Building skills in a logical way is important. The training plan Warren agrees with Competenz account manager Rick Oliver helps do this, and sets clear goals for Andrew's learning. Warren and Managing Director Brett Hollander support these goals by sequencing Andrew's jobs as they come in.
"We try to push our apprentices along, but not too fast, because they need to feel confident about what they're doing," says Brett. "Once they show they're capable we test them a bit more. So we started Andrew on marking out metal. Then he moved to drilling. Then welding with supervision. Now he's welding on his own."
Challenge is important. "Where budget allows, we're always looking out for 'tricky' jobs to round out Andrew's skills."
Past experience employing apprentices helps the company support their learners.
"Some young guys struggle on without saying anything," says Brett. "So we keep an eye on them and make sure what we're teaching's going in. And we keep them on top of their bookwork because that trips some apprentices up."
In return the company expects apprentices to do their bit. "Apprentices need to look ahead and tell us if there's a piece of work they have to do as part of their training plan. And we tell them communication's important. They need to ask questions if they don't understand."
As a small company, formal career paths are limited. Designsteel compensate for this by increasing pay 'substantially' when apprentices qualify, and offering a range of work.
Now in the second year of his general engineering apprenticeship, Andrew is proving his worth. "He's already productive," says Warren. "We're keen to do the right thing by him and give him a good apprenticeship."
Photo: Warren Wong with apprentice Andrew Gouldstone