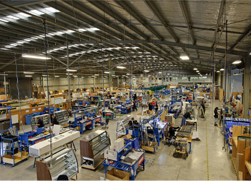 13 December 2016
From its humble beginnings in the late eighties to now an international company, Napier-based food display cabinetmaking company Food Products Group (FPG) have come a long way since owner Robert Darroch started the business in his garage. FPG are global leaders in manufacturing joinery products and display cabinets for some of the world's most well-known companies.
"Half of what we do is joinery work for large businesses such as BP and Foodstuffs, down to small companies such as cafés. The other half of what we do is display cabinets for likes of companies such as McDonald's, BP, Caltex, 7-Eleven, Foodstuffs, and Woolworths," says FPG General Manager – Operations Damian Connolley.
"We have a sales company in the United Kingdom and Rotterdam looking after the demands from Europe."
In the 1990s, the business started to rapidly grow from Robert's garage, into a complex of four buildings in 2000. In 2007, the team at FPG wanted to implement a lean/competitive manufacturing system into the business.
"We were looking for a training provider to help us, and Competenz stepped in to help support our training needs," he says.
"Over the next two years, we signed up most of our employees into a level 2 lean practices qualification. Around this time, the company had grown to over 200 employees, but when the financial crisis hit in 2008, the team decreased to around 100 employees."
Having lean practices in place has been a lifesaver for the business.
"[The financial crisis] hit us big time. If we didn't have lean processes in place, there's no doubt the company wouldn't have survived. Having lean systems means we're able to be more efficient – people know what they need to do."
In the last three years, the company has grown again to around 140 employees, with many of their employees signing up into the Competitive Systems and Practices qualification. Training plays an important part in the business.
"Over the last two years we've taken on more permanent staff. We look for people that can fit into the FPG way and have the ability to grow within the organisation," he says.
"We have a computerised assembly programme in the plant on what products need to be built, and how to build them. The programme can be updated automatically, so we're not relying on staff to show other staff members how to do things."
With their new product range launching in March next year at the EuroShop expo in Germany, the company have invested in new CNC saw and CNC milling machines in order to meet customer demands.
"Our clients want products that meet their needs, so we're moving into making more customised cabinets to adapt to their requirements," he says.
"We've turned a seven week lead time, into only two weeks. We've set our plant up to achieve a fast turnover to meet client demand. We can, if needed, make a food display cabinet from start to finish in less than 2 days."
The company are always looking ahead to continue to be at the forefront of what they do.
"In the manufacturing sector, we've managed to find a niche in the world market," says FPG owner Robert Darroch.
"We don't sit on our laurels. We've got to keep moving forward in order to keep growing and remain relevant in the world market."
People are at the heart of FPG.
"For us it's not just about a great product, but also about people building. We don't want employees that have a high skillset, but low on will. We find it's better to employ people who may have a low to medium skillset, but want to be part of this company. There's opportunity for them to learn and grow within the business," Robert says.
"It's great to see employees go from grassroots skills, to gaining qualifications that are transferable either into a better role within the business or with another company."
Photo: Food Products Group (FPG) factory. Credit: FPG.