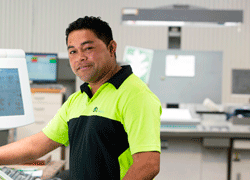 21 May 2015
Faanu Suafoa 
Printing, binding and finishing apprentice (level 4)
PMP Limited, Auckland
A desire to 'prove himself', the support of a good employer, and good old-fashioned persistence have combined to see Faanu Suafoa reach the final year of his print finishing apprenticeship with national printer PMP Limited, just nine years after he arrived in New Zealand from his native Samoa.
Faanu's secret? Well, there isn't one really. "Love your job, work hard, and learn from others," he says.
Faanu's journey to becoming a qualified print finisher started with a packing job at PMP in 2006. Keen to do more, he worked hard, set his sights on an apprenticeship, and convinced his employer to invest in his training. His attitude has impressed PMP Print Finishing Manager Gavin Wentzel.
According to Gavin, "Faanu's taken control of his own destiny. I never have to chase him with his learning. He has a plan in place and just gets on with it."
It hasn't always been easy. With four young children, Faanu's study time at home is at a premium. So he makes good use the time available by 'grabbing his books' during long print runs and coming into the print shop on his days off to tackle his bookwork.
Faanu finds the bookwork challenging at times, as it is for many learners for whom English is a second language. However, support from his workplace supervisor John Henning ('a really good trainer') and Competenz account manager David Eagles has 'kept him at it'.
Faanu is now passing on the skills he's learned to help others at his workplace with their on-the-job learning. He is likely expects to finish his apprenticeship late this year.