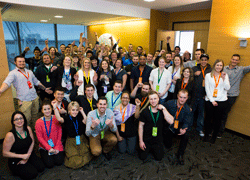 27 August 2015
Attending yesterday's Future Business Leaders Forum as part of national Got a Trade Week has been an opportunity for top apprentices to gain leadership skills which will help them build a career in their chosen trade, to hear from industry leaders, and to share expertise with other leading apprentices across New Zealand's trades and services industries.
"The 68 young people we brought together today have all shown they've got the technical skills to get ahead in their trade or service industry," says Rachel Hopkins, Competenz General Manager Marketing and Communications and Chair of the national Got a Trade campaign.
"The Future Business Leaders Forum is about celebrating these skills, and helping these young people build the leadership skills that will see them continue to advance in their chosen careers. New Zealand needs more skilled tradespeople – and it's been a real pleasure and privilege to spend today with a group of talented, enthusiastic New Zealanders."
Top apprentices attending the one-day event at the offices of Ernst & Young in Auckland enjoyed a range of activities. Guest presenters included celebrity speaker Allison Mooney ('the people interpreter') who explained the four different personality styles and how to get the best from them, and Victoria Crone, Managing Director Xero, who talked about what it means to be a leader.
A panel of experts from across the trades, including our Competenz trade butchery, shared the 'secrets of their success'. Futurist Dave Wild explained what work may look like in the future. He also led participants through 'the amazing business race' which pitted competitors against one another as they vied to run the most successful business.
Hon Louise Upston, Associate Minister for Tertiary Education, Skills and Employment, employers, and the chairs of industry associations Competenz supports joined the forum for networking drinks at the end of the day.
About national Got a Trade Week (21 to 28 August 2015)
Got a Trade Week is a national campaign, chaired by Competenz and supported by seven industry training organisations, that promotes and celebrates careers in New Zealand's trades and service industries and the benefits of learning on-the job.
Got a Trade Week is also a chance to hear from current apprentices who are enjoying the benefits of training on-the job.
More information
Check out TV One's breakfast show 
Meet one of our Competenz heroes in the signmaking industry.