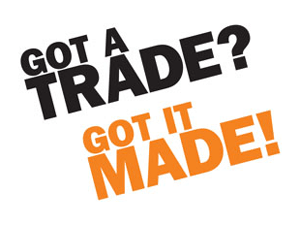 20 August 2015
Got a Trade Week is here! Please celebrate with us as we showcase our trades-based industries. Look out for the campaign in the media over the next week, including on TV One's Breakfast show each day, promoting and celebrating careers in New Zealand's trades and service industries.
Thank you to these companies which are opening their workplaces to show jobseekers what they do. Congratulations to these top apprentices (below) who are taking part in our Future Business Leaders Forum to gain leadership skills that will advance their careers.
Bree Scott - Lyttleton Bakery
Richard Mehana - Goodman Fielder
Luka Young - PAK'nSAVE Lincoln Road
Cameron Grierson - Stratford Engineering
Michael Benson - Stainless Design
Jaric Savill - Aztech Engineering
Patrick McElhannan - Sistema Plastics
Pranesh Nand - Elite Polymers
William McClune - Fenn Refrigeration
Alexander Rau - Molloy Furniture
Sam Connor - Dave Paul Logging
Gareth Williams - Gamble Forest Harvesting
Matthew Waller - Mike Hurring Logging
Tom Wehi - Blackstump Logging
Allan Tipu - East Coast Lumber
Matthew Stewart - Stewart Logging
Lee Cudd - Rimurapa Ltd
Charlie Mitchell - The Dominion Post
Cheyne Lesa - Printlink
Steven Hunter - Snap Printing
Nicole Bason - Green Frog Sign and Display Ltd
Over the next week we'll be bringing you interviews with the many people Got a Trade Week connects across the country, including school students, jobseekers, current apprentices, teachers and employers.
Some of our Competenz Got a Trade heroes - check out these Competenz Got a Trade heroes in the meantime:
Ashton Fleming - Engineering 
Dion Wharemate - Signmaking
Jack Khosrawi - Butchery 
Matt Stewart - Forestry
Rebekah Savage - Baking
About national Got a Trade Week (21 to 28 August 2015)
Got a Trade Week is a national campaign, chaired by Competenz and supported by seven industry training organisations, that promotes and celebrates careers in New Zealand's trades and service industries and the benefits of learning on-the job.