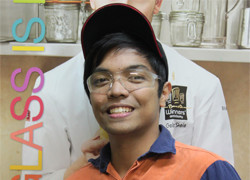 12 February 2016
Need some handy tips to get through your apprenticeship? ATNZ glass engineering apprentice Rommel Lopez is here to help.
Be organised
Have a plan to ensure you keep your work on track.
"I sort my unit standards so I know what I need to achieve. I separated my glass unit standards from my engineering units so I can complete them around my current workload. Be efficient with your time by making sure you schedule in time to complete your units."
Keep up-to-date with your bookwork
Stay on top of your assessments. The theory work is just as important as the practical.
"The first year of my apprenticeship was challenging. I fell behind with the bookwork so I had to catch up. I found that taking photos of my work meant I could take it home to do."
Communicate – ask questions
Your training manager and ATNZ account manager are here to help.
"If I'm unsure on anything, I always have a chat to my managers. Don't be afraid to talk to your team if you need support."
Think before doing
Health and safety should always be at the forefront in everything you do.
"I always check I've got the right PPE (personal protective equipment) gear on when I'm in the plant. Plan your tasks first so you don't have to repeat your work. It makes everything more time efficient."
Photocopy your work
Always have an extra copy of your assessments for your records.
"I photocopy all my unit standard assessments. It's good to be able to refer to the units you've already completed. Also, if by chance one of you assessments goes missing, you've always got a copy."
Rommel has completed his glass unit standards and is currently doing his general engineering unit standards at glass container manufacturer, O-I New Zealand in Penrose, Auckland.