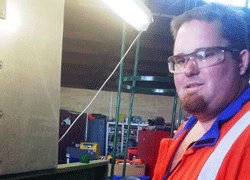 11 June 2015
Nelson-based ATNZ mechanical engineering apprentice Jason Terry is a young man who takes health and safety seriously. Employed by ATNZ and seconded to Nelson environmental management company Nelmac, Jason is recognised by both companies for his initiative in identifying potential hazards and his ability to 'see the big picture'.
"It's great to see apprentices like Jason reporting health and safety issues. And when they report the issue to the company they're working with, it's fantastic that they're remembering to tell us at ATNZ too," says Nelmac's ATNZ account manager, Janene Bang.
"ATNZ employs the apprentice so we need to know what's happened in their work day – whether it's a hazard, near miss, incident or accident. That way we can follow up with the apprentice and seconding company. And, if we think there's a wider issue, we can raise it with other ATNZ seconding companies and apprentices too."
Nelmac supplies environmental management services to the Nelson/Marlborough region. According to Jason, the company is 'proactive' in its approach to health and safety and 'keen to keep developing its processes'.
So when Nelmac moved its workshop to a new site earlier this year, it was these processes Jason used to identify and report any potential health and safety issues he encountered. He then followed up with an incident report to ATNZ, using our standard forms. Why?
"Because I need to look after both companies. Nelmac's where I work and I want to make sure my colleagues here get home safely each night," says Jason.
"ATNZ's my employer – so it's only right to tell them too. And who knows? By doing this I may be helping other ATNZ apprentices round the country get home safely too."
Nelmac is tertiary-qualified with ACC and requires employees to engage in daily health and safety reporting at all levels. Says Nelmac Chief Executive Lee Babe, "Jason is a valued member of the engineering team and his approach to health and safety meets our expectations in every respect."