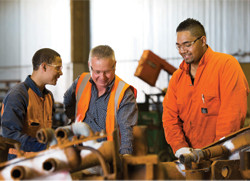 30 May 2016
The 37 industries we support offer great career opportunities which are important to apprentices. Offering career opportunities, and talking about these opportunities early in an apprenticeship, are key to retaining apprentices when they qualify.
Here are some tips to help you help your apprentices build successful careers with your business.
1. Get to know your apprentice as a person
Understand their personality, motivations, and interests outside work. Fulfilling careers take all these factors into account.
2. Talk about career opportunities early in the apprenticeship
This will motivate your apprentices to learn and help you retain them when they qualify.
3. Set clear expectations
It's your apprentice's career, not yours. Make sure they understand that they need to put their hand up for development opportunities – and that you'll support them when they do.
4. Develop a career plan with your apprentice
Identify their career goals, the skills and experience they need, how they'll gain these and by when. Then track their progress.
5. Take a broad view of career opportunities
These take many forms other than 'climbing the ladder'. Involve apprentices in business activities like job costing. Let them supervise others as they gain experience; offer them training such as soft skills to help them gain skills like team management. Our 'enterprise-wide' programmes can cater for all aspects of a business from Occupational Health and Safety, to Sales, Distribution, Quality, Competitive Systems and Practices (Competitive Manufacturing), Business Management and Administration. 
6. Hold regular 'career conversations' – and follow up
Set aside time several times a year to talk about career goals and progress. Ask thought-provoking questions and give apprentices time to reflect. Then follow up, with a project or training opportunity. This shows your apprentice that you're genuinely interested in their career.
7. Connect your apprentice to development opportunities
Find them a mentor; identify opportunities for further training (e.g. advanced trades training); seek out projects that help them gain experience.
8. Help your apprentice build 'soft skills'
Being a technical expert isn't enough to get ahead in a career. Help your apprentice communicate effectively, solve problems, and work well under pressure.
9. Focus on your apprentice's strengths, not their weaknesses
Many career coaches believe that focusing on strengths is the key to a successful career. If your apprentice is particularly good at an activity and enjoys it, help them be the best they can at it.
10. Help your apprentice look ahead
Talk to your apprentice about future trends in your industry (e.g. new technology they need to master).
More information
Your Competenz account manager can give you more information to help you support your apprentices' careers, including advice on career development and training programmes.