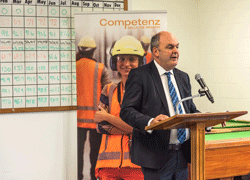 04 September 2015
Celebrating the achievements of 25 competitive manufacturing graduates at the Auckland plant of industrial coating supplier PPG was 'the fun part of the job' for Minister of Tertiary Education Skills and Employment Steven Joyce, and an opportunity to encourage graduates to continue to build their skills throughout their working lives.
"Graduations like these are very significant events," said Mr Joyce. "Training shows you what you can achieve. And training in a workplace environment is really important. School and university aren't for everyone. But everyone needs to continue to learn through their working life."
Mr Joyce spoke of the value of training to lift productivity in a competitive, globalised world. He also saluted partnerships between companies like PPG, industry training organisations like Competenz, and training providers like Training & Supply.
"The biggest challenge for us all is to make the most of opportunities to keep learning."
PPG New Zealand is part of a multi-national company that produces industrial, protective, refinish, architectural and marine coatings. PPG coatings cover buildings, cars and factories the length of the country.
In the past three years PPG New Zealand employees have completed around 200 competitive manufacturing qualifications, from level 2 to level 5 (diploma). For many, this training has been the first time they have been involved in formal education for many years, and an opportunity that has encouraged them to continue to build their skills. At today's graduation, 19 employees received the Level 5 Diploma in Competitive Manufacturing. Six graduated with a National Certificate in Competitive Manufacturing.
Competenz pays tribute to PPG and Lean Manager William Bratton who designed and drove the training.