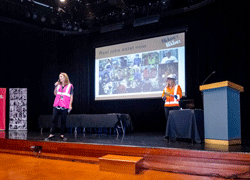 07 July 2015
Hundreds of secondary students took part in the Workchoice Earn & Learn events last month. The one-day events which took place in Auckland, Wellington and Christchurch allowed students to experience how local businesses operate with onsite visits and listen to inspiring youth guest speakers and local employers.
The morning session focused on presentations from guest speakers who talked about the benefits of on-the-job training, tips on searching for jobs, volunteering for work experience, and having a positive attitude within the workplace. 
The major sponsor for the event was Got A Trade? Got It Made! - a joint initiative from seven industry training organisations (ITOs), including Competenz. The initiative aims is to get young people interested in on-the-job training in the trades industries. The Got a Trade presentation highlighted the benefits of workplace training and getting ahead in the workforce.
Competenz supported the event in several ways. These included as a joint sponsor through Got a Trade, and by arranging for learners and employers from our industries to make presentations and take part in panel discussions. Competenz GM Marketing and Communications Rachel Hopkins was also a keynote speaker with her counterpart at the Skills Organisation, Katherine Hall.
The students also heard from Bex Savage – 'The Tattooed Baker' and Weston Milling Trainee of the Year 2014. Bex completed a three-year baking apprenticeship at Rolleston Bakery, Christchurch at the start of this year.
She shared her story of how a baking apprenticeship has put her on a career path that has changed her life. "I would definitely recommend a bakery apprenticeship or any trade apprenticeship for that matter," she said. "You get paid to work while you learn so you have no hefty student loan hovering over your head for years and years to come.
"I have now been known as The Tattooed Baker for a year and have nearly 9,000 followers on Facebook and my own website. My aim is to inspire others to bake and dream big. I have had the privilege to appear on the Good Morning Show where I baked on live TV, plus I have been profiled in many magazines and newspapers. I feel very blessed to have come this far in life and still be young."
The afternoon workplace visits allowed students to explore workplaces and hear first-hand from employees and employers from local businesses such as Fletcher Construction, Countdown and Hirepool.
By the end of the day, students had a better understanding of the opportunities and benefits of workplace training and the alternative options to university.
For more information, please visit the Got a Trade website.