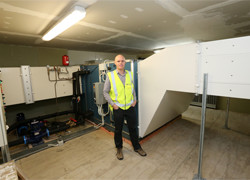 24 February 2016
Trade skills and training are always on the forefront of Jarrod Harris' mind. As a Director of refrigeration, air conditioning (RAC) and ventilation services company, Thermal Solutions, Jarrod has played an important part in shaping qualifications for the RAC industry.
"Working on qualifications that are going to influence the RAC industry is rewarding to be a part of," Jarrod says.
"Depending what Competenz requires, I've been working on year one and two unit standards for RAC and also some electrical unit standards."
Jarrod started working with Competenz at the end of last year as part of the RAC Sector Advisory Group. He put his hand up to be a subject matter expert (SME) for the new RAC qualifications that were launched last month, as well as working on electrical unit standards.
"I work with the team at Competenz to help shape the technical aspect of the unit standards into a format that students will understand. This eventually gets transformed into an eLearning module," he says.
"In my experience I'd say about 70% of the problems faced by RAC tradespeople come down to electrical issues. RAC apprentices need to be exposed to electrical work as it's an imperative part of their day-to-day tasks."
Running a business, raising a young family, as well as being an SME can be challenging, but Jarrod takes it all in his stride.
"He's played a significant role in the work around the RAC qualifications and the electrical unit standards. He's been a rockstar," says Competenz Project Manager, Kim Hampstead.
Jarrod says having a strong relationship between industry and their Industry Training Organisation (ITO) is crucial to meeting the needs of the industry.
"It's great to be involved with a strong ITO like Competenz. The more we can strengthen this relationship, the better."
If you would like more information on the RAC qualifications, please visit the RAC page on the Competenz website.