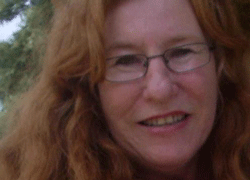 17 December 2015
Working to a deadline is nothing new for Gisborne Herald Sub-editor Elaine Marie Clark who recently completed the National Diploma in Applied Journalism (Level 6).
"The course was well worth completing. It confirmed to me what I already knew, but I also learned a lot of new skills as well."
Journalism is in the family. Her father Iain Gillies was the editor at the Gisborne Herald and her three brothers John, Angus and Duncan are all journalists.
"I've been in the industry for over 20 years either doing general reporting or subbing. I worked for local Queensland publications when I was living in Australia before moving back to Gisborne in 2002," she says.
"I really enjoy my job as a sub-editor at the Gisborne Herald. You can do a lot of good because it's a small community and you have to make sure you give a well-balanced, unbiased view of what is happening in the world."
Elaine became interested in doing the Diploma through her brother John.
"He did the course and found it beneficial. The workbooks and assignments are thought-provoking and add value to your work. I feel a lot more confident in my job."
The team at the Gisborne Herald have been hugely supportive of Elaine throughout her training.
"Gisborne Herald chief sub-editor Dave Conway has always made time for me. If I have any queries, he doesn't hesitate to help. Gisborne Herald editor Jeremy Muir has also been fantastic, encouraging me throughout the course. He purchased new workbooks for the office as part of my training."
The Diploma was a great challenge for Elaine to stretch her skills and knowledge.
"The course helped build confidence in her work. Elaine took pride in completing the Diploma and receiving her certificate," Dave says.
"It was great to talk with Elaine on topics she was doing in her assignments that we wouldn't usually have the opportunity to discuss."
Elaine's advice to anyone considering doing the Diploma?
"Get in and do it. Tackle it head on. It's made such a difference in my job. It's well worth it. And the knowledgeable Competenz tutors are only a phone call away if you need advice."