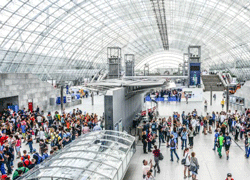 12 May 2015
New Zealand took home 18 medals at WorldSkills Oceania. The regional heats, held at Wintec in Hamilton from April 14-17, saw the country's best young apprentices take on 102 competitors, from Australia, Canada, China, Korea, India and Malaysia, across 30 skills categories.
"We came away with 18 medals, which is a great success for New Zealand," says WorldSkills New Zealand chief executive, Bruce Howat. "Every one of our medallists scored over 500 points, which puts them in the top five percent for the international competition in Brazil."
Competenz apprentices, Michael Benson (Hamilton) and Stacy Smyth (Dannevirke), were awarded gold in sheet metal technology and bronze in welding, respectively.
Both of them will join the Tool Blacks in representing New Zealand at WorldSkills International, to be held at Sao Paulo in Brazil from August 11-16.
"WorldSkills is known as the trade Olympics for a good reason," says WorldSkills judge and Competenz regional manager, Steve Brooks. "It's a great opportunity for talented young tradespeople like Michael and Stacy to test their skills on the world stage."
Established in 1950, WorldSkills International is a charitable trust that encourages young people to excel in vocational skills. Today, it represents more than 73 countries and 45 skills. WorldSkills events attract more than 200,000 visitors annually.