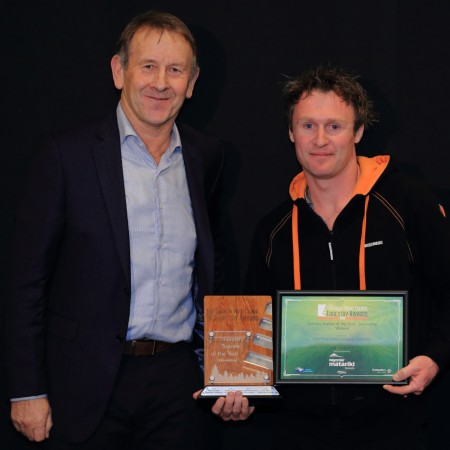 27 June 2018
Timaru man Glen Paul was named Forestry Trainee of the Year (Harvesting) at the 2018 Southern Wood Council Forestry Awards ceremony held recently in Dunedin.
The awards are run by the Southern Wood Council in conjunction with Competenz, the industry training organisation for forestry. With more than 350 people attending the awards, it's the largest industry gathering in the region.
Glen says winning the award came as "a bit of a shock".
"I was up against tough competition in the harvesting category but to win is sweet as!"
Glen works at Cable Logging in Geraldine and has been involved in on-going training for the past 14 years.
"I started my forestry career as a school boy on a Gateway programme and then progressed to a job and a Competenz apprenticeship, and the learning has never stopped. Each year there are new machines, new modules and new training opportunities. I enjoy everything about the forestry industry, especially being around the machinery."
For those considering an apprenticeship in the forestry industry, Glen says simply "give it a go". "It's not as scary as some people make it out to be. It's great."
Photo: Glen Paul with Mark Grover, Regional Manager at Rayonier, which sponsored the award.
See also: Huge celebration for South Island forestry trainees