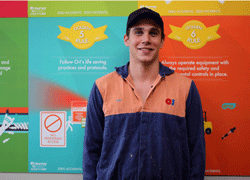 07 July 2015
Glass apprentice Jake Ihaka has his eye set on building a career in the glass industry. Following work experience through the Gateway programme, Jake joined Auckland based O-I New Zealand (O-I NZ) as an apprentice glass technician in January 2013. "My goal is to finish and get a job," Jake said. Now in his third year of his apprenticeship, Jake is well on his way to making his goal a reality.
The O-I Glass Technician Scheme teaches apprentices to become engineers who are glass specialists. Apprentices work towards a Level 4 qualification in Glass and Technology and a Level 4 qualification in Mechanical Engineering.
The company currently has 12 Apprentices who get together every Tuesday afternoon to study.
"There's always someone to help me out and I get to bounce ideas off the other apprentices which is really great," Jake said.
"The guys who have been here awhile who started as apprentices - some of them have gone onto being managers. There are career opportunities to move up through the company and with good pay."
Jake's interest in the manufacturing industry started when he was still a student at Auckland Grammar School where he studied technology.
"I had a school friend whose dad worked at O-I NZ. I made an effort to show up and I got an apprenticeship."
Not falling into the trap of many of his peers who are currently building student (loan) debt, Jake is learning while earning on the job, "I know of lots of people at university that are going for the sake of doing a degree," he said.
"I can earn more by reaching my (unit standard) credit targets, so it's an incentive to do well."
Jake is enjoying working on the production maintenance area of the business and learning engineering skills such as fitting, machining, welding, as well as maintenance of the plant and machinery. He has also worked within quality control, laboratory testing containers and raw materials.
Jake's work ethic and dedication to his job has made him stand out as a star apprentice. "One of the main reasons O-I New Zealand chose to host Jake through his apprenticeship is that he demonstrated not only his interest and enthusiasm and a willingness to learn, but he also had the academic and practical skills to succeed in what is quite a rigorous four years," Milestone Training Manager Neil Ollerton said.
"Jake is living up to those expectations demonstrating initiative, patience and real maturity in his approach to growing his future within O-I. We can easily see Jake in the future attaining a leadership position with the company."
Jake recommends the apprenticeship to anyone who likes practical learning. "I'm more practically minded than academic. If you like more practical learning, then I say definitely go for it."
O-I Quick Facts
O-I is the world's largest glass container manufacturer and preferred partner for many of the world's leading food and beverage brands. 
The Company had revenues of $6.8 billion in 2014 and employs approximately 21,100 people at 75 plants in 21 countries. 
O-I NZ is New Zealand's only glass container manufacturer and supplies high-quality glass bottles and jars to a range of leading food and beverage brands. 
O-I is New Zealand's largest user of recycled glass and employees around 260 people at its Auckland manufacturing facility.