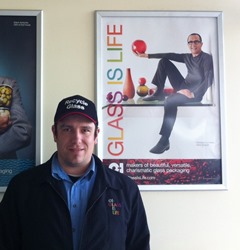 13 November 2015
Tackling a glass manufacturing apprenticeship in two bites, as a school leaver and again in his late 20s, gives André Ploeg from Auckland glass container manufacturer O-I New Zealand a unique perspective on the benefits to learners and companies of businesses investing in a 'mature' apprentice.
"It's never too late to start an apprenticeship and there are benefits to being an older learner," says André who completed his apprenticeship with Competenz in early 2015.
"I'm more motivated than I was when I was younger, and I've got more structure and backup in my life, including a supportive partner. I able to put a training plan in place and stick to it. That's good for me, and good for the company I'm working for."
Gaining valuable life and work experience through his 20s has helped André get ahead in his chosen career and benefited O-I New Zealand too. This work experience includes four and a half years with O-I New Zealand customer, wine and spirits supplier Pernod Ricard, where André worked as a cellar hand.
"It's been really useful to see the glass business from a customer's point of view," says André. "Being part of Pernod Ricard's production team has helped me understand what they need from a supplier like O-I New Zealand."
André's story is also one of perseverance – another quality common in older learners. When he moved to Pernod Ricard in 2010, André had completed 90% of his glass manufacturing apprenticeship. Pernod Ricard, like O-I New Zealand, has a strong training culture. André continued to train while working there in-house but his apprenticeship went on hold. Then, in 2014, a chance meeting with Competenz Account Manager Joanne Verry encouraged him to take up his glass training again.
"Joanne realised how close I was to finishing. Then the training teams at Pernod Ricard and O-I New Zealand got behind me and helped me complete the remaining unit standards."
André spent 2014 'shuttling between both work places', training after work two days a week to complete his apprenticeship. Now working for O-I New Zealand again, as an Area Quality Engineer, André is grateful to both companies for their support.
 About our mature apprentices
The New Zealand Apprenticeship scheme allows apprentices of all ages. In 2015, 747 (18%) of the apprentices training with Competenz began their apprenticeship at age 30 or older. Our oldest apprentices are in their 60s.
Our account managers, who work closely with apprentices to review their progress, consistently report that 'mature apprentices' do well in their training – both on- and off-the-job. The companies we work with recognise this too. In research commissioned by Competenz in mid- 2015, 27% of the 180 companies who responded say they 'prefer' mature people for apprenticeships over younger people.