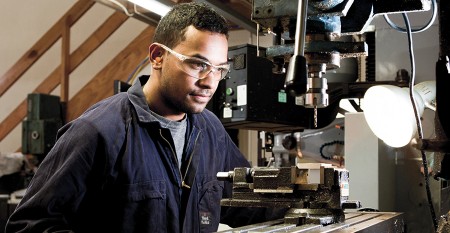 14 August 2017
A life-long fascination with how things work led Joji Chute into an apprenticeship in mechanical engineering.
"I used to watch my dad magically fix things when I was young. My apprenticeship is the stepping stone to becoming a certified engineer so I can bring things back to life too."  
When he left school, Joji completed a Certificate in Aeronautical Engineering at the Air New Zealand Aviation Institute.    
He is now in the second year of his mechanical engineering apprenticeship at Alive Foods in Auckland, which creates health food products such as Frooze Balls. 
"I make sure the production machines are working smoothly, the workshop machines are well lubricated, and fluids are at a good level at the end of every week.
"The coolest thing I've worked on was one of the production machines that was built from scratch. I helped to build it and seeing it run for the first time was the coolest thing ever. It gave me a great feeling of achievement and success."
Joji has also found the job extremely challenging at times, but he has been well supported by his workmates.  
"My first time working with the milling machine was definitely a challenge. Trying to work out the number of turns, which handles move what, and a fear of spending a lot of time with less progress was tough but I was able to overcome it. With a lot of practice and help from my colleagues, I was able to learn it and come up to speed.
"Every day at work I tell myself to try and learn something new and never run away from anything when it gets hard."
As well as technical skills, Joji also learns communication and time management skills vital for any workplace.
"For example if maintenance is needed on a machine, I first communicate with the shift supervisor about when it would suit them to do the maintenance or repair so I won't disturb the production process or be a hazard to anyone."
For Joji, an apprenticeship allowed him to get a job at 22 and start training and earning money with no student loan to pay back. And now he is firmly focussed on completing the qualification.
"I chose to do an apprenticeship because I learn better when I do things. Being able to apply what I learn in my every day work means I can relate to it and understand it much better.
"My advice to anyone considering an apprenticeship is don't lose focus on your dream, stay humble, and work smart not hard."
Watch Got a Trade? Got it Made! with Joji Chute
Joji is a future leader for the Got a Trade? Got it Made! national campaign to raise awareness of on-the-job training and careers in New Zealand's trades and services. Find out more at gotatrade.competenz.org.nz.