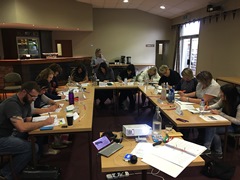 18 November 2016
Available now

National Certificate in Business (Business Administration), Level 3
The aim of this programme is to enhance business and administration skills by providing a suite of tools and techniques to streamline and improve business operations.

Join a network of business professionals working in similar roles in the forestry industry.

The programme covers the following topics:

- Improve workplace processes and implement improvements
- Communicate effectively both verbally and in written formats
- Use office systems correctly to meet client and audit requirements
- Determine effective team processes and leadership styles
- Identify and use methods to effectively manage time
- Part of this training occurs on-line and is done through correspondence.

Course dates for 2016

Otago – started
Palmerston North – 21 November 2016
Rotorua – 22 November 2016
Whangarei – 23 November 2016

Available early 2017

National Certificate in Business (Introduction to team management), Level 3
This programme will equip your current and future team leaders with the skills and knowledge needed to be successful in their roles.

The programme covers the following topics:

- Management essentials – Learners will be proficient in listening, questioning and using a variety of communication styles to connect with their diverse team members
- Motivating others – Learners will understand what is required to build an effective team, be able to describe different leadership styles and be taught techniques to motivate individual team members
- Delivering results – Learners will understand the key components of effective performance management and be able to give constructive feedback to their team
- Increasing performance – Learners will be able to apply on the job training skills and be able to prioritise tasks to ensure there is time for the important activities to increase your business performance
- Understanding your organisation – Learners will understand how a business functions and how the role of a team leader contributes to the big picture.

For further information on any of the above qualifications, please contact your Regional Account Manager.
The image above is the first course intake of students who are hard at work at the Otago course. This includes administrators from harvest contracting companies, forest management companies and log transport companies.