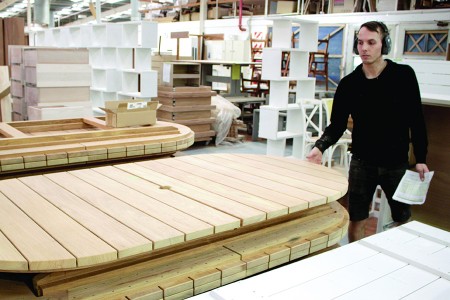 01 December 2017
Apprentices and trainees working in the furniture sector will be able to enrol in new qualifications from the start of 2018.
Competenz has worked with advisory groups across the furniture sector to review the existing National Certificates in Furniture and redesign them with a future focus.  
While the majority of the learning in the current qualifications remains relevant, the programmes have been updated in parts to reflect advances in technology and equipment.
Final enrolments for the national certificates will be taken up to 31 December this year and will be replaced with New Zealand Certificates in Furniture (Level 2, Level 3 and Level 4) and New Zealand Apprenticeships from 1 January 2018.
Competenz Chief Executive Fiona Kingsford said the review process confirmed that furniture making was a unique trade that sat apart from other construction sectors.
"We know that 34% of the furniture workforce have no secondary school qualifications and 59% have no post-secondary school qualifications. These programmes provide a genuine career pathway for people already working in the industry or those who are looking to start out. We're here to help employers build highly skilled teams who work productively and safely."
The Level 2 programme is designed for new entrants in the industry and teaches basic knowledge and techniques such as use and maintenance of a range of hand tools, health and safety, and hazard and risk assessment. They specialise in cabinetmaking, furniture finishing or upholstery to gain additional skills such as working with drawings, applying coatings, and using upholstery tools.
Level 3 is designed for intermediate level operators, and the core units cover troubleshooting relevant to furniture and cabinetmaking as well as key operating skills required. Level 3 carries the same specialisations as Level 2, and each strand covers industry-specific skills that suit the business needs.
At Level 4 you can also specialise in CNC machinery to gain skills in how to programme, set up and control machines. Graduates will be able to produce advanced drawings using CAD software. During the review process, the advisory group confirmed that leadership, coaching, process improvement and job costing were core skills and knowledge required, and the qualification recognises a person's ability to supervise and improve operations.
Kingsford says: "We know that all strands of furniture making require specialised skills and knowledge. Industry leaders have told us these three tiers of learning are an essential model for education as apprentices develop and build on their skills, so that's what we will continue to provide."
For more information and to discuss on-the-job training, speak to your Competenz account manager or call customer services on 0800 526 1800.