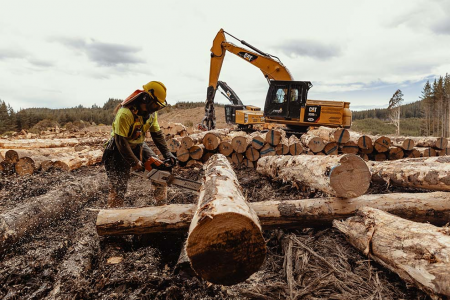 12 October 2021
As part of the NZQA-mandated five-yearly qualification review, our suite of forestry qualifications spanning across forest harvesting and silviculture operations have been updated and officially launched.
Coverage of some new operations has been introduced to keep pace with technology and changes in the industry and ensure updates to health, safety, and environmental regulations are followed. This includes programmes for the operation of mobile cable yarders, mechanised thinning, and mechanised land preparation machines.

Forestry Account Manager Ross Marshall says the review and update of the qualification was very important; as technology continues to evolve, so do we.
"With new qualifications to keep up with the advancements within our industry, we're able to match the demand for production and, most importantly, safety."
The suite takes a focused and robust approach, with each of the qualifications made up of core units that cover foundation skills. This knowledge is built on as learners progress through the programmes and diversify into specialised strands.
Most of the task-based learning that previously existed remains the same, but the programmes have been enhanced with the introduction of some of the more mechanised operations.
"New qualifications will allow our learners to keep up with industry demand. They will be trained for tasks safely and to a high standard. Our industry is growing, and so is our knowledge to make working in forestry easier and safer," says Ross.
As always, the qualifications are open to anyone employed in the industry.
Competenz would like to thank all industry professionals who gave their time to help out with these reviews. This includes employers, workers, operators, and assessors. Their involvement in technical advisory groups, acting as subject matter experts, is crucial to ensure these qualifications are fit for purpose and provide an accurate representation of sector needs.
All Competenz resources, learning support materials, and assessment guides have been updated to facilitate a seamless rollout and ensure learners and employers get the most out of these refreshed qualifications.
Most of these programmes are fully funded under the Targeted Training and Apprenticeships Fund (TTAF).
If you would like to learn more, please get in touch with your Competenz account manager, or find out more here.