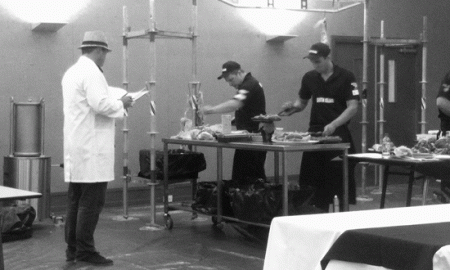 30 April 2015
The North vs South Butchers' Challenge was the hidden gem of the 2015 Retail Meat New Zealand Conference, held at Auckland's Heritage Hotel, 17-18 April, 2015.
The challenge, which sees two teams of six go head-to-head in fantastic feats of butchery, was judged by our very own Matt Grimes, sector manager for baking and retail meat at Competenz.
On the night, the northern team emerged victorious.
Furthermore, six individuals from across the board were selected for the New Zealand Sharp Blacks trails, which will determine our national team at the 2015 Tri-Nations Butchers' Challenge.
Three of the six finalists are butchery alumni of Competenz - Josh Flavell (Raeward Fresh, Nelson), Jack Khosrawi (Pak'n Save, Auckland) and Rowan Lee (Peter Tims, Christchurch).
And, the remaining finalists are – John Cox (New World, Hamilton), Zak Grammar (Neat Meat, Auckland) and Hannah Miller (Neat Meat, Auckland). 
The 2015 Tri-Nations Butchers' Challenge will see teams from New Zealand, Australia and Great Britain converge in Auckland from September 5-10.