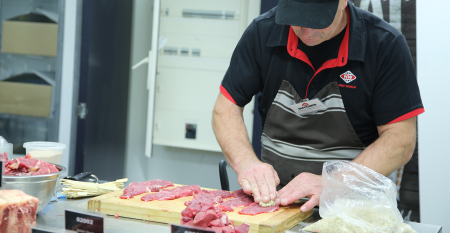 31 August 2017
Today the battle is on to find the nation's top butcher and butcher apprentice. Twenty finalists, ten in each category, will vie for the prestigious titles of Competenz Butcher Apprentice of the Year and Alto Butcher of the Year for 2017.
At this year's grand final all contestants will complete a two-hour practical cutting test, and finalists in the apprentice category also face an interview and written exam.
The competition, held at Auckland's Shed 10, will be followed by a black-tie dinner where the winners will be announced.
Best of luck!
The 2017 Competenz Butcher Apprentice finalists
•          Andrew Cumming, New World Eastridge, Auckland
•          Bailey Marshall, Harris Meats, Cheviot
•          Ben Nelson, Aussie Butcher New Lynn, Auckland
•          Brianne Beets, New World Tokoroa, Tokoroa
•          Dylan Ohlson, New World Rangiora, Rangiora
•          Gurpreet Dhillon, PAK'nSAVE Te Awamutu, Te Awamutu
•          Makalah Stevens, New World Foxton, Foxton
•          Michael Samani, New World Eastridge, Auckland
•          Patryck Edwards, PAK'nSAVE Wairau, Auckland
•          Samantha Weller, New World Rangiora, Rangiora
The 2017 Alto Butcher finalists
•          Alana Empson, PAK'nSAVE Clarence St, Hamilton
•          Anthony Ross, New World Fendalton, Christchurch
•          Benjamin Henry, New World Thorndon, Wellington
•          Dan Klink, Mangawhai Meat Shop, Mangawhai
•          James Smith, PAK'nSAVE Pukekohe, Auckland
•          Justin Hinchco, Waipawa Butchery, Napier/Hastings
•          Kieran Horsefield, New World Greenmeadows, Napier/Hastings
•          Luka Young, New World Eastridge, Auckland
•          Reuben Sharples, Aussie Butcher New Lynn, Auckland
•          Riki Kerekere, Countdown Meat & Seafood, Auckland