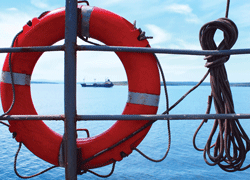 03 February 2016
In September last year the Royal New Zealand Navy, in collaboration with Competenz, rolled out a Mechanical Engineering online Learning Management System (LMS). Delivered through a cloud-based learning platform using iPads, the online system aligns to unit standards which count towards the National Certificate in Mechanical Engineering Level 4.
A trial programme with 12 Ordinary Marine Technicians (OMT) has had positive results with students responding well to the online system.
Reducing training time is one of the many benefits of the LMS.
"The online material is easy-to-use, and it provided numerous interactive ways of learning," says David Chisholm, Trade Workshop Instructor at the New Zealand Naval Trade Training School.
"It caters for all learning styles and keeps the students interested in the learning material. The online system made notifications of student progress easy to understand."
Online training offers a more efficient way of learning.
"The big picture of online training can provide our organisation greater flexibility," says Shaun Dickey, Head of the New Zealand Naval Trade Training School.
"There is potential to save time around training days while still keeping training relevant and current."
For more information on the online system, please contact Competenz account manager for the NZDF, Lara Williams: L.Williams@competenz.org.nz