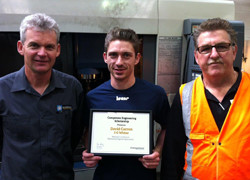 14 December 2015
Winning a 2015 Competenz Engineering Scholarship is helping Otahuhu-based toolmaker David Carron tackle the advanced engineering training that will add business skills to his technical expertise and support his move into management roles. David is embarking on his Level 5 National Certificate in Mechanical Engineering, a two-year programme of study on-the-job.
"I want to move into management one day and this training will help me do this," says 27-year-old David, who completed an apprenticeship in toolmaking in 2014 with employer E G Whiter where he makes high precision tools and moulds. "I'll be learning more about the business side of the job."
A desire to keep learning also motivates David. "It's a natural progression. I want to keep building my skills."
David pays tribute to his manager at E G Whiter Neil Goodman for the support he's given him right through his training.
"Neil's supported me from day one – and he's right behind my level 5 training. He's taught me a lot and he believes in training for our industry as well as our company. He really wants to keep the trade alive."
Neil speaks highly of David's attitude and abilities. "He's the first apprentice I've taken on in eight years and he's really shown his worth. He arrived on our doorstep with his CV in hand and asking for a job.
"That shows the attitude every employer is looking for – and David has continued that initiative and commitment in his career and training to date. We're really pleased he's won this scholarship. It's well-deserved."
About the Competenz Engineering Scholarship
Competenz is the industry training organisation for the engineering industry. The Competenz Engineering Scholarship encourages qualified engineering tradespeople to continue their training at Levels 5 and 6 (advanced trades training). It covers the Competenz-related costs of the training (e.g. fees and learning resources).
Competenz awards two scholarships each year. Please contact your Competenz account manager for more information or email us on marketing@competenz.org.nz.
Photo: Neil Goodman, David Carron and Competenz Account Manager Bevan Prince