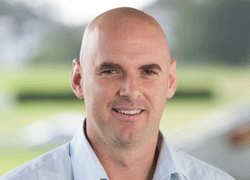 19 August 2015
For 35-year-old Cantabrian Matthew Robinson, workplace training is familiar territory. Starting as a maintenance and diagnostics apprentice after finishing school was just the beginning.
"I started my apprenticeship at Carter Holt Harvey at the MDF plant in Sefton as an ATNZ apprentice in the National Certificate in Mechanical Engineering Level 4. The apprenticeship took me three and a half years. It was one of the first apprenticeships to come out of the old fitter turner apprenticeship," Matthew says.
After the apprenticeship, Matthew stayed at Carter Holt Harvey and moved into a conditioning monitoring technician role maintaining the plant's machinery.
"I did a lot of vibration analysis and ultrasonic and thermographic surveying. I was helping to change how the way maintenance was done using predicative and preventative maintenance programmes," he says.
"After doing this role, I moved into an area coordinator role in the panel finishing area of the plant. I looked after maintenance in the area. The plant ran 24/7 on a schedule. About once a month, we had to shut areas of the plant down to do maintenance."
Part of his role was to manage staff working in the panel finishing area and ensure all work was completed on time.
"By this stage, I knew the plant really well and I was responsible for the staff in my area. They knew if they needed to get anything done, they could come to me and we'd discuss what would be the best solution."
After finishing at Carter Holt Harvey, Matthew contracted as maintenance fitter for a short time before starting at Competenz as an account manager in Christchurch in 2008.
"Having a trade background made it an easy transition for me when visiting clients in the workshop. Having the coordinator role helped me with all the administrative side," he says.
"I was an ATNZ apprentice so I knew what the guys had to do and was familiar with the unit standards. The HR side of the role was a bit of a learning curve for me. It took time to get my head around it."
Matthew started as a project manager in the Competenz Strategy and Innovation team just over a month ago.
"A typical day for me at the moment is involving the account managers in the project I'm currently leading called the back office. The project is looking at creating more improvements and efficiencies between the account managers and the office," he says.
"I'm getting a good overview of the whole company. I'm really enjoying the role from the point of view of seeing how the wider business works."
Moving into the project management role was an important step for him.
"I was looking for a new challenge and something a bit different from the account manager role. I wanted to get back onto a steep learning curve and learn all aspects of the business."
Matthew has two papers left of his Master of Business Administration (MBA) degree at Canterbury University as well as completing a project next year.
"I think it's a pretty cool qualification. It's a lot of work, but it's given me a really good overview of business."
Education and training can be done throughout your career not just when you're young Matthew says. "Don't think it ends when you finish school. Or you have to go to university to get a job. An apprenticeship is a great way to learn and is a recognised qualification. Let an apprenticeship lead into a career pathway. Education is continuous; you can always carry it on."
There are plenty of opportunities for young people to grow professionally and personally from an apprenticeship.
"When you do an apprenticeship you start working with adults and you get advice from mentors in the workplace. An apprenticeship offers more than just technical skills; you learn life skills as well."