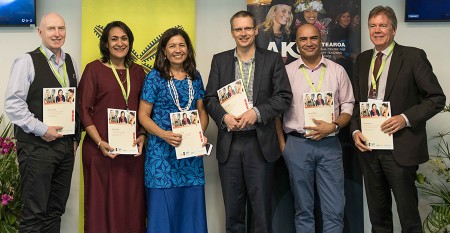 03 October 2017
Pasifika learners engaged in workplace training have the best chance of success when they are part of a supportive team learning environment, new research shows.
The research report 'Pacific Learner Success in Workplace Settings' is a collaboration between four ITOs – Competenz, Careerforce, ServiceIQ and Skills. It was written by Pacific Perspectives and published by Ako Aotearoa, the National Centre for Tertiary Teaching Excellence.
The report was launched on 28 September as part of the Pacific Tertiary Education Forum in Auckland.
In 2016 Competenz supported more than 21,000 learners throughout New Zealand and more than 1,600 of them identified as Pasifika.
Competenz CEO Fiona Kingsford said the study was an important step to identifying any barriers to success.
"The findings will provide a baseline on how we can continue to engage and achieve on behalf of Pasifika learners across all our sectors."
The study focused on learners, learning facilitators and ITO staff engaged in improving Pacific learners' achievement in industry training. It brings a Pacific learner perspective to factors that influence their participation, achievement and continuance in ITO facilitated qualifications. Also included are the perspectives of ITO staff and facilitators who are working towards improving Pacific learners' success.
The project identified critical success factors and effective models for Pasifika learners, including those generally applicable to industry training, and specific to the training models of ITOs.
A significant investment will be made in the development of a toolkit for ITOs to use in applying the results of the projects as part of the dissemination of the results of the project. The project will also result in enhanced capability for the Pasifika staff of ITOs to conduct similar evaluative work in the future.
Read the full findings of the 'Pacific Learner Success in Workplace Settings' report.
Photo: (From left) Peter Scanlan (ServiceIQ), Ifi Ripley (Careerforce), Dr Debbie Ryan (Pacific Perspectives), Brendan Mischewski (Mischewski Consulting), Iani Nemani (Competenz) and Dr Stanley Frielick (Ako Aotearoa) launch the report at the New Zealand Tertiary Education Forum. Photo supplied by Gui Taccetti. .