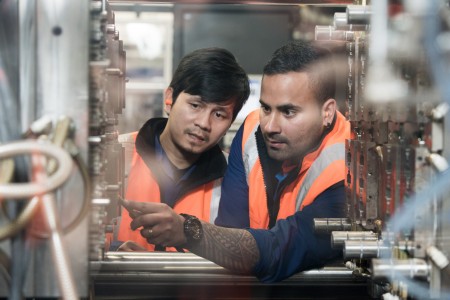 03 July 2018
Auckland's Sistema Plastics was named Plastics Training Company of the Year at the recent New Zealand Plastics Industry Annual Conference in Rotorua.
Sistema has developed a comprehensive training programme and currently has 12 production staff working on Complex Injection moulding qualifications and four apprentice toolmakers.
In nominating the company for the award, Competenz Training Advisor Phil Jones said as a multicultural workforce competing in the global marketplace, it is vital to Sistema's success that its employees have access to training.
"Training generates new ideas and initiatives and develops in the staff a greater awareness of the entire production process. Sistema has looked to the future and realised there will be skills shortage based on the company's planned growth strategy. To avert this shortfall, a plan was implemented to raise the skill level within the company.
"Every employee is encouraged to register their interest in training and using the current Unit Standard framework, it is Sistema's intention to have trained engineering staff as well as machine setters."
More information