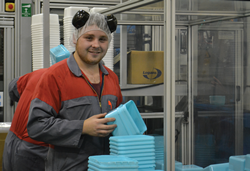 16 August 2016
Ben Ellis decided early on he wanted do an apprenticeship; it was just a matter of which industry he wanted to train in.
"I was told I could do an apprenticeship while earning an excellent income, so I decided to go for it," Ben says.
Growing up, Ben would always help his dad build and repair his race car, which got him interested in mechanical work.
"I decided to apply for an apprenticeship with a local plastics company, as the use of plastics is wide spread throughout the world. The industry is very mechanical intensive which suits me well."
Five years later, the 22-year-old  has completed his qualification in Plastics Processing Technology (Technical) (Level 4) in Injection Moulding.
"I started at Alto Packaging when I was 16-years-old and now I have finished my apprenticeship.  l recently won the title of 2016 Plastics Apprentice of the Year.
"I was really excited to win this award. It was my proudest moment, and it's a great acknowledgement of all the hard work I've put into my apprenticeship. I'm so grateful to everyone who has helped me get to where I am today."
Lance Wyatt, Operations Manager at Alto Packaging, has been impressed with Ben's work ethic and attitude towards his apprenticeship since starting with the company.
"Ben has a great rapport with other staff members regardless of their position and maintains a positive attitude towards work. His colleagues enjoy working with him and are happy to assist him in completing tasks when required."
Still heavily invested in race cars, Ben regularly participates as a member of the Auckland Stock and Saloon Car Club.
"I have my own stock car. I enjoy being a member of the club, racing around the country, and supporting other clubs when possible." 
Going forward, Ben will be taking part in the Plastics New Zealand Emerging Leaders Programme, which is aimed at supporting emerging professionals and leaders in all areas of the plastics industry.
"Through the programme I hope to learn leadership skills that will allow me to move into senior roles in my industry."
His advice to those thinking of doing a plastics apprenticeship?
"Keep doing your hobbies as they could one day help you get a job. Don't give up when things get too hard – look at them as opportunities to learn from. And get into an apprenticeship!"
Ben is currently nominated for the Future Business Leaders Awards, which is organised in conjunction with Got a Trade? Got it Made! Week (22-26 August 2016).
Got a Trade? Got it Made! is a national campaign to raise awareness of on-the-job training and careers in New Zealand's trades and services. It also celebrates the talents and achievements of young people making headway in their chosen vocation.