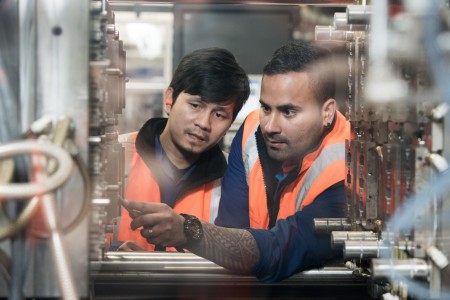 29 March 2018
From starting as a temp at Sistema five years ago, Harpreet Nagra has fulfilled his dream of becoming a qualified plastics technician, and it's thanks in part to his workmate Billy.
"I hadn't ever considered plastics as a career," says Harpreet. "But when I started working on night shifts one of my colleagues, Billy, who has been working as a technician at Sistema for 18 years, started telling me all the amazing things you can do with plastic. It really inspired me. So after three months I asked the manager if I could do an apprenticeship and the rest is history. Billy started training me and continued to help me throughout my whole journey."
Harpreet is now qualified with a National Certificate in Plastics Processing (Injection Molding). Working at Sistema is a far cry from his early life in India.
"We grew up in a small village and there was virtually no opportunity to study so I was sent to a boarding school in India before moving to New Zealand to further my education at age 18. In 2013, I came to work at Sistema."
Having no prior knowledge of the plastics industry did not hold Harpreet back and while he says the first year was "a bit hard", he had a lot of help to call on.
"While most of the practical training was done on the factory floor, my manager Kevin and my Competenz training advisor John helped me with the theoretical side of the subjects.
"The opportunity to earn and learn while getting a qualification was fantastic. Sistema's management was really supportive and encouraged me to move quickly through my apprenticeship by offering more on-site learning. There are now five guys on nights and more on day-shifts doing plastics and engineering apprenticeships. It's a great team to be part of."
Harpreet enjoys the variety of his job and the different challenges he faces each day.
"You're never bored - there's always something new to learn and to do. There are always tools and machinery to get to know. It's really amazing how plastic works. When you see anything made of plastic, you find yourself in the habit of trying to work out how it was made, how it was molded. Until you become a plastics technician, you don't really know. It's fascinating."
To succeed in the plastics industry, Harpreet says it takes commitment, hard work and getting your hands dirty.
"It's not just about fixing things. You can be really busy in any department. If there's a mould or die change problem or they need help in the tool room, you do it. That's why in an apprenticeship you are trained in all departments – so you can move around and give a hand wherever it's needed. Sometimes even a simple problem can take four or so hours to fix and everyone helps. The machines need to run for the business to make money."
Now he is qualified, Harpreet is looking at enrolling in further study. "You can never stop learning in this industry. I want to keep on this path, keep learning and climb up the ladder." 
Photo: Harpreet Nagra, right, is a qualified plastics technician at Sistema.