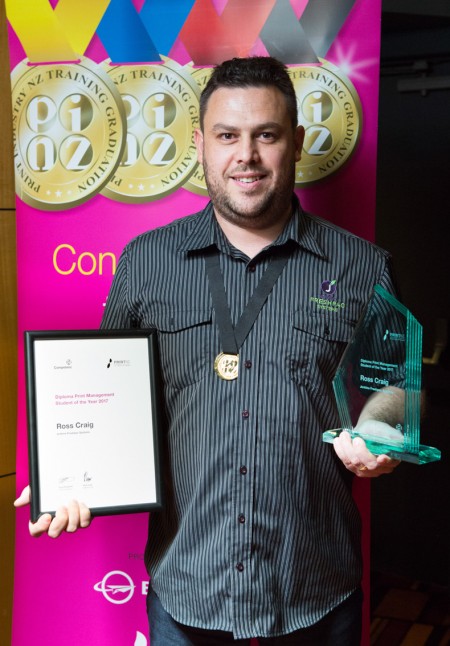 15 June 2018
Tauranga printer Ross Craig was named Diploma in Print Management Student of the Year 2017 at the recent Print Training Graduation awards in Auckland. The annual award is sponsored by Competenz.
Samantha McNaughton, Competenz' National Manager for Sector Engagement, said Ross had showed commitment and passion for the print industry.
"By choosing to complete a diploma, he has increased his knowledge of the processes that enable a productive printing environment," McNaughton said.
While Ross, 37, has been working for printing company Jenkins for the past 18 years, it was five years ago when he was based in Auckland that the offer of diploma study was presented.
"Jenkins put me through my Competenz print apprenticeship and I was running a variety of machines in the general label side of the business. When the company set up Jenkins Freshpac Systems in Tauranga, I was offered a contract to be the team leader responsible for the day-to-day running and up-keep of presses and print crew. Studying toward the diploma was part of the contract, which I saw as a pathway off the tools and into a possible managerial role."
That career pathway has become a reality, with Ross appointed to a Print Production Manager role at the completion of his diploma a year ago.
"The diploma helped prepare me for what is involved in this position. If the opportunity arises in the future I would like to study for a Diploma of Business Studies," he says.
Ross says Jenkins has a "proud history" of taking on and moulding young apprentices into quality printers.
"I always enjoy when a new apprentice finds out the complexity of the printing process – getting a design concept for a product to the press – and the techniques and skills it takes to create a high quality finished product.
"For anyone thinking of doing a print apprenticeship, I would say do it. It's an enormous industry – for example every branded product you see in a supermarket has come from an area of the print industry. With the digital age upon us, I tell my apprentices not to fear the ever-changing technology within our industry, but to embrace it and learn from it."