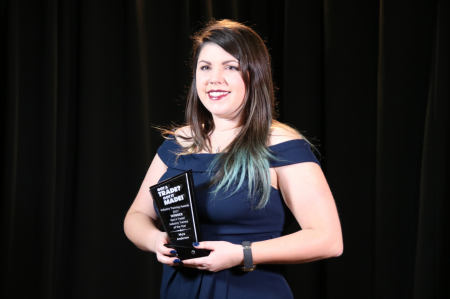 24 August 2017
Myra Anderson's passion for her career and commitment to education secured her the top honour at the 2017 Got A Trade? Got It Made! Industry Training Awards held at Parliament last night. 
The event celebrates careers in New Zealand's trades and services, and Associate Minister for Tertiary Education, Skills and Employment Louise Upston presented Myra with the Industry Trainee of the Year Award.
Myra said her three-year apprenticeship with Competenz gave her the skills, knowledge and confidence to turn print from a job into a career.
She is a web and graphic designer at printing.com in Thorndon, Wellington, where she started working eight years ago. She has continued to take on more responsibility and now manages the workflow in the design studio, runs weekly team meetings, facilitates training for sales and design staff around New Zealand, and creates revenue reports for the executive team.
"With three designers in our Wellington studio working in a digital environment, the workload can get hectic," Myra says. "I'm here to manage internal and external expectations and make sure work is delivered on time."
Project management is a strength for Myra and she exceeded expectations in her work with the Cancer Society of New Zealand to revamp the look and feel of the Daffodil Day campaign.
The organisation admits to being a slightly demanding client with requests that "pushed the boat out" but Myra and her team consistently delivered high-quality products under budget.
"We rolled out the new designs across magazines, newspapers, billboards, social media, digital campaigns and even Spotify. Seeing your design in a magazine, or walking down the street and seeing a billboard with your design is an amazing feeling."
Originally from Hawkes Bay, Myra moved to Wellington when she finished high school to study a Diploma of Interactive Design.
"After finishing my diploma I was working at a women's gym while trying to find an entry level job in interactive design, without work experience, in a highly saturated industry. It was pretty tough going."   
But it was through this role that she made new contacts with suppliers, and soon secured a job as a print finisher.
"In 2009 print was just a job. But I was exposed to some amazing women working in the industry and began to realise this was what I wanted to do. This was my career. I saw opportunities and potential for me at printing.com and knew I was lucky to be working for such an innovative company.
"In 2013 the opportunity came up to take on a print apprenticeship – and it was a no-brainer. I have a real passion for ongoing education, I love learning new things, digging beneath the surface to see what makes things tick."
Myra completed her New Zealand Certificate in Print in 2016 and she was named PrintNZ Apprentice of the Year 2016 at the Pride in Print Awards in Christchurch.   
"My apprenticeship has made me a better designer – the ability to talk about print to clients with ease and advise them on the best solution to their problems, the ability to trouble shoot problem files, the knowledge about correct file set-up, colour management, the ability to lead the design department as a source of knowledge, all have come from my apprenticeship and printing.com."   
Myra says she will continue carving out her role at printing.com and hopes to one day become an art director.
Got a Trade? Got it Made! national campaign to raise awareness of on-the-job training and careers in New Zealand's trades and services. Find out more at  gotatrade.competenz.org.nz.