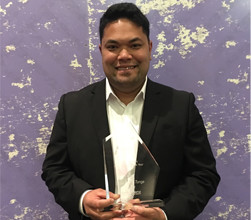 28 June 2016
For 33-year-old Sione Tonga, winning Print Apprentice of Year at last month's Pride in Print Awards was a surreal experience. His working life started in onion fields, but now he is a senior printer at Auckland-based print and packing company, Stratex NZ, proving that hard work always pays off.
"When I moved to New Zealand from Tonga in 2004 with my family, I started as an onion packer," says Sione.
"Doing an apprenticeship has opened the door to career opportunities. My family is so proud of me. I've proved that hard work can get you there."
Sione did various temporary jobs until he got a job at Stratex and was offered an apprenticeship. Over three years, he learnt the basic processes of printing, as well as management skills through leading a printing team. He credits his managers and experienced colleagues for his recent success.
"Many of my colleagues have over 20 years' experience in the industry, but I was the first apprentice that Stratex ever had. Winning apprentice of the year shows how dedicated my managers are to training staff," he says.
"The team at Stratex is really supportive. I'm so lucky to be in the position where I get experienced staff sharing their knowledge with me."
Sione's win has garnered attention from local media here and back home in Tonga. The married father of three hopes his message of having a good work ethic will inspire young Pacific people to consider a career in the print industry.
"There are a lot of young Pacific people who come from a similar background to mine. I want them to know that there's always hope. You may not be an academic, but as long as you're determined and motivated you can achieve your goals," he says.
"An apprenticeship opens so many doors. Working in the print industry can take you anywhere in the world once you've completed your qualifications. Take the chance! Hard work will always be recognised."
Sione finished his print apprenticeship last year, and will start a Diploma in Print Industry Management Level 5 next month.