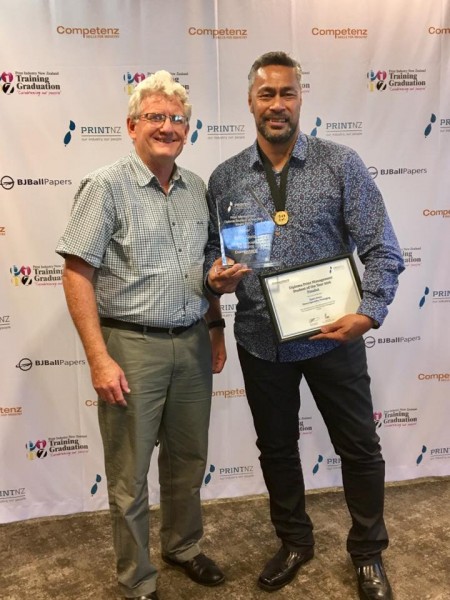 01 May 2017
The recent PrintNZ graduation ceremonies for print trainees in Christchurch and Auckland saw a large number of level 2, 3, 4 and 5 Competenz graduates receive medals to mark the completion of their programmes. For some, it marks the end of their formal training, and for others, it is a stepping stone to the next chapter in their learning journey. Ten apprentice graduates are going into the semi-finals for the coveted Apprentice of the Year award.
Among other awards was the Print Management Diploma Student of the Year award, won by Epati Aiono from the Orora Group. Epati has worked in the print industry in various roles over many years. When the opportunity came up to study for the Diploma of Print Manager he applied and spent two years of studying towards the qualification.
"I have been in the industry for over thirty years. Starting work in 1985 as an assistant on a four colour press for a company called Cellocraft in Miramar which later merged with Whitcoulls where I served my apprenticeship."
Fast forward three decades, Epati is in a management role in his chosen career path.
 "I am now the manufacturing manager at Orora Specialty Packaging in Auckland.   At times, I find studying some of the modules where my practical experience is limited challenging.Luckily Orora Limited already have extensive work processes in place, so it's a great help."
"The award is a great honour and surprise.  I was very fortunate to have the support of Orora Cartons Wellington, and Competenz and especially my family."
Some of the winners of the night includes;
Print Management Diploma Student of the Year: Epati Aiono
Top Label Apprentice for Jenkins Award: Wade Jones
Top Digital Apprentice for GAPF Award: Taryn Gannaway, Myra Anderson and Ryan Fraser
Five other finalists for apprentice of the year are Wade Jones, Taryn Gannaway, Ryan Fraser, Myra Anderson and Robert Pearce.
Congratulations to all our graduates and award winners.  We look forward to Pride in Print in this month.