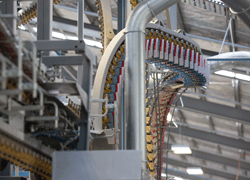 07 July 2015
The 15th annual Single Width Users' Group (SWUG) Conference is taking place on 29-30 August at the Millennium Hotel Rotorua, with this year's theme being 'Print with Passion'.
The conference, which will host around 150 delegates and suppliers, will have a range of local and international speakers, an educational tour of the paper-making plant of Norske Skog, and an awards evening and networking dinner.
 "We have a great line-up of presentations covering interesting print topics along with a few 'Who Am I' addresses," said SWUG chairperson and former Competenz board member Dan Blackbourn.
"There will also be several informative print site presentations - given there has been a fair bit of upgrading and moving of plants in New Zealand in recent times."
Guest speakers include Anthony Payne, Human Resources Director at Fairfax Media, Ruth Cobb, General Manager at PrintNZ, Chris Smallwood, Managing Director at Thermal Imaging Services Ltd, and many more.
For more information on this year's conference please visit: www.swug.co.nz