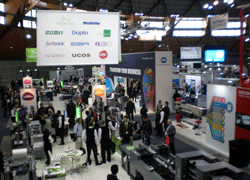 17 June 2015
In a fast-changing industry, the recent Printex trade show in Sydney was a chance for printers to learn about the latest trends, technology and equipment. Our Competenz team were there and these were their 'top three take-outs':
Digital technology (especially wide format) is increasingly replacing traditional equipment.
Printed collateral still plays a major part in successful media campaigns. (In fact, companies who've stopped printing catalogues report a major fall in sales.)
Today's commercial printing operation cannot rely solely on quality equipment and print output to get ahead. A client focus and top-notch marketing and communication skills are essential too, if print companies are to truly partner with clients.
More information
Your Competenz account manager