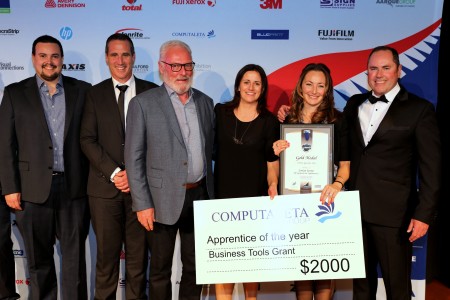 21 August 2018
Years of hard work and dedication have paid off for signmaker Louisa Jessop who was named Apprentice of the Year at the annual industry awards in Auckland recently.
Louisa works at Signtech in Christchurch and started her apprenticeship with Competenz in 2015. She has poured all her energy into her training, which she is due to complete at the end of this year.
"I have given the apprenticeship scheme 110% all the way through, and have taken as many opportunities as I can to learn and advance my skills.
"I did this to better myself and give myself a career that I can be proud of, so to win an award for my work is incredibly humbling. I'm very proud of the hard work that I've put in and what I've managed to achieve."
As a signmaker, Louisa designs, creates and installs signs and graphic elements for clients around the Christchurch area. No two days are the same.
"I love the creativity and the variety of day-to-day work. There are always new projects in new locations, which keeps the job really fresh and interesting."
The Apprentice of the Year award was presented at the New Zealand Sign and Display Association (NZSDA) annual awards in Auckland, a prestigious event that celebrates the outstanding design and craftsmanship across a broad range of signmaking methods and technologies.
NZSDA said there was an overwhelming number of applications for the Apprentice of the Year award.
"Recognising our talented apprentices is what we as an association are passionate about as they are the future of the industry. The judges said that even they found it harder this year to judge the exceptional quality of workmanship that was submitted, however the final three winners stood out for their talent, work ethic and attitude."
Louisa received a $2,000 resource grant sponsored by Computaleta, $2,000 Tool Box set sponsored by Jenrite, a $1,500 Letterheads all expenses paid registration sponsored by Resene, and an NZSDA 2019 Premier Conference registration.
Runner-up Jason Robertson from Dzine Signs in Upper Hutt and third place-getter Sam McNeil from Law Creative in Whakatane both received a $400 Tool Box kit and a $100 Prezzy card.
For now, Louisa is enjoying the rest of her time as an apprentice and preparing to make her next career goals.
"My goals over the last four years have been dedicated to completing my apprenticeship, and now that it's coming to a close it will be time to make some new goals. At this stage I'm unsure what those will be – I'm very happy doing what I'm doing. I enjoy the people I work with, and enjoy the work itself."
Photo: From left, Vaughan Philips (Jenrite), Ben Solley (Resene), Peter Inder (Signtech), Arlette Farland (Computaleta), Apprentice of the Year Louisa Jessop and Paul Walters (NZSDA President).