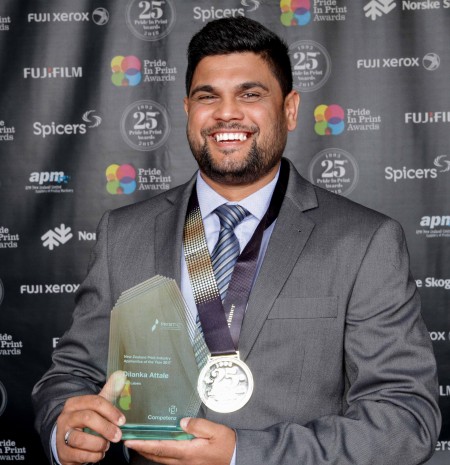 17 May 2018
Dilanka Attale of Kiwi Labels has been bestowed with the prestigious New Zealand Print Apprentice of the Year Award.  
Presenting the award at the Pride In Print awards night, PrintNZ General Manager Ruth Cobb said Attale demonstrated a "thorough technical knowledge of the process alongside a real passion for the work he produces, the people he works with, the business he works for and the overall industry".
"In his words 'find your passion, never give up and make your success'," Ms Cobb said.
Expressing how much the award meant to him and family, Attale paid tribute to Competenz, PrintNZ, the judging panel and also his employers.
"I sincerely thank Kiwi Labels for putting me into this apprenticeship and also special thanks to my managers for sharing their knowledge in printing with me," he said.
"I would like to thank Andrew Thomson, my technical manager, in helping me out in various ways – identifying that extra interest which I had towards printing and letting me shine.
"I would not have achieved this without these guys. From the first day they have been very helpful and encouraging me – always welcoming my ideas and correcting me when I am wrong.
"Also, huge thanks to my wife and my parents – believing in me through all these years, studying and working. I'm now one step closer to achieving my future goals."
Describing Attale's achievement as "outstanding", Kiwi Labels general manager Guy Phillips said it was "a reflection of the hard work and commitment Dilanka has shown right from day one".
"This also really highlights the mentoring and training of both Andrew Thomson and Regan Fox throughout Dilanka's training," he said. "A proud moment for our company."
Mr Phillips emphasised that training was of "great importance to Kiwi Labels.
"We want to be able to support and mentor keen and committed people. We also want to keep supporting our wonderful clients with the best staff.
"Training is a big commitment for both the employee and employer but one we are 100% behind. Upskilling and learning never stops. The benefit for us is offering our clients a quality product made by skilled and committed people."
Photo: Dilanka Attale of Kiwi Labels